It may be spring, but daily temperatures seem to fluctuate wildly. When mornings are cold, I crave a hot breakfast. We all know that steel cut oats are good for us – nutritious, filling and full of fiber – but they can take too long to cook for a weekday breakfast. The solution is to soak them overnight. This is so simple and makes the morning cooking time about 5-7 minutes – too easy not to make them. A few additions make this a tasty breakfast.
EASY OVERNIGHT OATS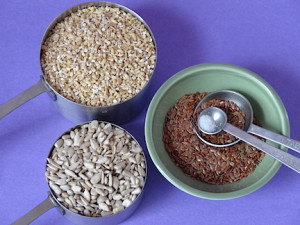 Place in a small saucepan:

1 cup steel-cut oats
2 Tbs. whole flax seeds (optional)
1/4 cup raw sunflower seeds (optional)
Pinch salt
2 cups water (plus another 1/2 cup if using flax and sunflower seeds) or milk (if you want to substitute any kind of milk (nut, soy, coconut, cow) for the water, place the saucepan in the refrigerator until ready to cook).
Soak overnight.
In the morning, bring to a boil and then lower to a simmer, stirring often. If you prefer your porridge looser, add a little more water. Oats should soften and expand and be ready to eat in about 5-7 minutes. Makes 2-4 servings, depending on portion size.
To fortify: Add a little maple syrup or honey, chia and/or hemp seeds, chopped walnuts (or any nuts you like), raw or toasted pumpkin seeds, sliced or diced banana, chopped apple or pear, raisins or dried cranberries, a sprinkle of cinnamon, or whatever you prefer. My usual additions are a tablespoon of chia, a big handful of chopped walnuts, a 1/2 teaspoon of maple extract, a cut-up banana or berries (depending on what I have available) and a shake of cinnamon. Your breakfast, your choice.