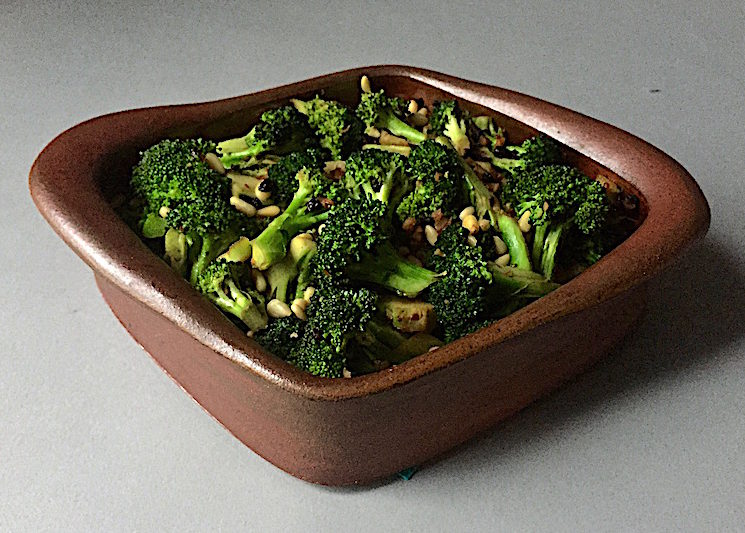 We were invited to dinner at a friend's house last week and when I asked what we could bring, she said she would love a green vegetable. Of course, I thought, there can never be enough vegetables! Sounds simple, right? A vegetable is one of the easiest parts of a meal to cook but one to transport takes a little forethought. You don't want to arrive with ingredients and be disruptive by starting to cook in the midst of your host's preparations. You want a dish that is ready to put on the table.
I know lots of people want their food to be served piping hot. Not moi. I don't care one bit, especially with an unsauced vegetable dish, if it is hot, warm, room temperature or even cold. I think many foods, like cruciferous vegetables, taste even better at room temp than hot. But temperature is a consideration, since you can't really travel and produce a steaming hot dish on arrival. Planning on bringing a room temperature recipe is most likely to succeed.
If it were springtime, I might make and bring a platter of steamed or roasted asparagus, always well liked and travel hearty. In summer, I like to bring a platter of raw veggies or sautéed summer squash with julienned carrots, if a salad isn't wanted. In winter, I might offer roasted root vegetables. Now that it is autumn, I thought about broccoli or broccoli rabe, sautéed with garlic and chili flakes or blanched watercress with a sesame vinaigrette and toasted sesame seeds. Since I had 2 heads of broccoli in the fridge from that week's farm share, I just sautéed them with a few additions. If you like broccoli rabe, you could make it the same way only you would blanch it for a few minutes and drain before adding it to the sauté. Both hold up very well to traveling and taste good at room temperature.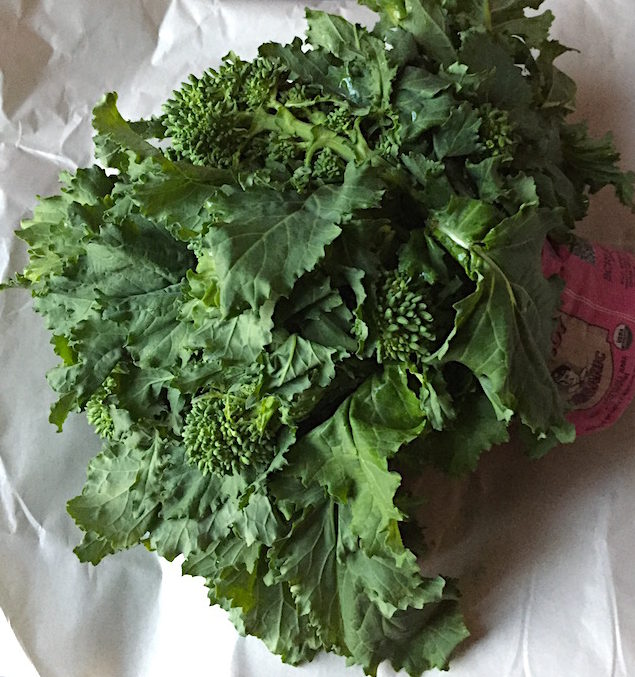 Lastly, I remembered to bring the broccoli in a serving dish so my friend wouldn't have to scramble to find something appropriate while trying to get her dinner on the table. Ditto for a potluck. If there is sauce or dressing involved in your dish or just to keep everything clean and tidy, bring your contribution in a covered container and then transfer to your serving bowl or platter when you arrive. You have to carry the food anyway, so a plate or bowl and even utensils won't add much weight. I often use a lidded Pyrex that can double as a serving dish. If you aren't coming from home, it might be best to offer drinks or dessert. And there are always flowers!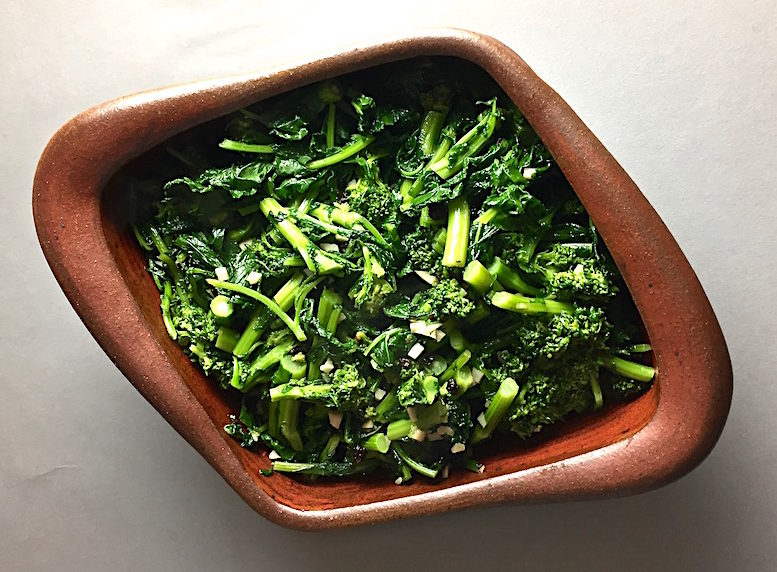 BROCCOLI with GARLIC, CURRANTS, CHILI FLAKES and PINE NUTS
1 large head of broccoli, cleaned and cut into florets and stem sliced or 1 bunch broccoli rabe, cleaned, cut into bite sized pieces, blanched 3-4 minutes and drained

2 TBs olive, avocado or grape seed oil

2-3 cloves garlic, minced

2-3 TBs dried currants (if you don't have them, you could chop raisins)

1 large pinch dried red chili flakes

1/4 cup raw or lightly toasted pine nuts (or another nut, if you prefer), optional
Heat a large sauté pan and add oil until hot.
Reduce heat and add garlic and stir until starting to soften, about 30 seconds.
Add currants and chili flakes and stir another 30 seconds.
Add broccoli and a big splash (about 1/4 cup) of water or stock and stir until liquid evaporates and broccoli is barely soft enough to pierce with a fork. Err on the side of undercooked as it will continue to cook and there is almost nothing that smells worse than overcooked broccoli.
Remove from heat and from cooking pot in order to stop cooking. If using broccoli rabe, add and cook just to heat through and be well mixed.
Sprinkle nuts on top, if using, and toss.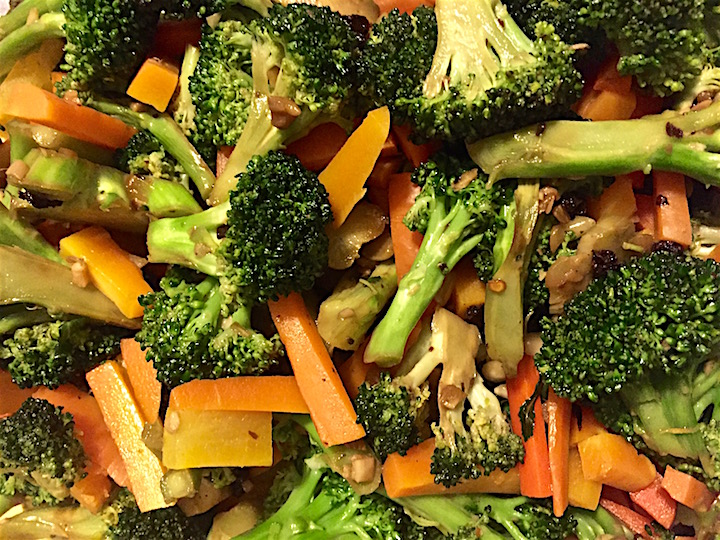 Note: Robbie Lobell's work, along with many other fine potters, will be for sale at the Holiday Sale at the Old Church Art School in Demarest, New Jersey the first weekend in December.