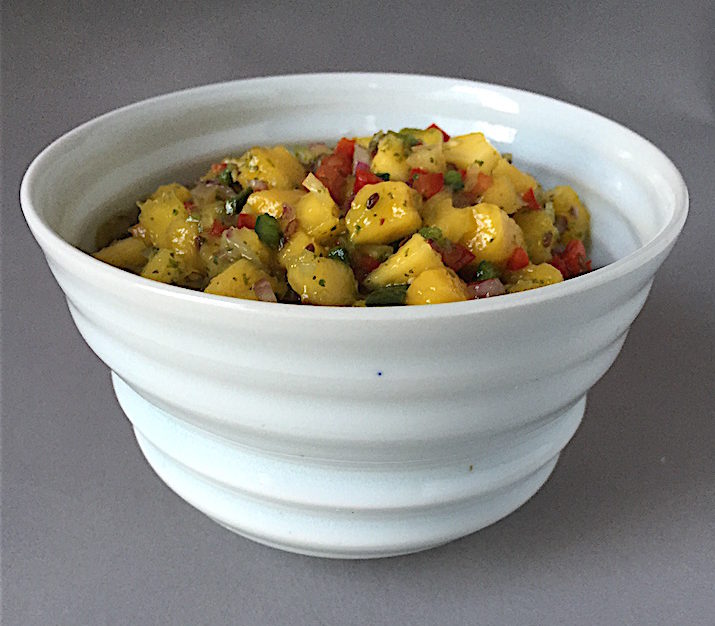 Mangoes are 3 for $4 at our local green grocer this week and freshly picked tomatillos are now in season at farmers markets. Time to make mango-tomatillo salsa! It is a simple but very flavorful recipe (and so good it is hard to stop eating) which uses a lot of late summer vegetables – tomatillos, red, green and jalapeño peppers and cilantro plus lime and pineapple juice. It's easy to make – just a combination of chopping and blending – and delicious with tortilla chips or celery, in tacos or even an omelet and on top of cooked fish, tofu, chicken or pork. You can purée a cup of the salsa to pour over your protein of choice for a marinade. This salsa makes a delicious chicken salad – just add diced or shredded chicken, toss well and top with chopped almonds and more cilantro.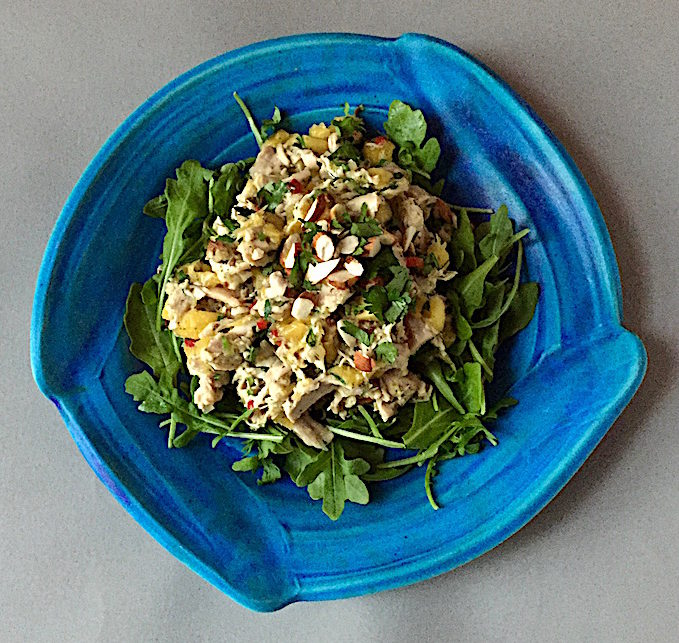 The original recipe came from John Willoughby and Chris Schlesinger's wonderful slim volume of very flavorful sauces and relishes entitled Salsas, Sambals, Chutneys and Chowchows. I've altered it only slightly. It is essentially a green salsa with diced mango and peppers. I use mangoes that give just a bit when pressed but are still firm so they are easy to dice. If they are riper, they are harder to cut but sweeter. It's always a toss up. The fineness of the dice is a personal preference. I like everything diced quite small but you may like it chunkier. If you don't have fresh tomatillos, you may use a 12oz can of tomatillos. And if you like really hot salsa, don't take out the seeds of your hot peppers.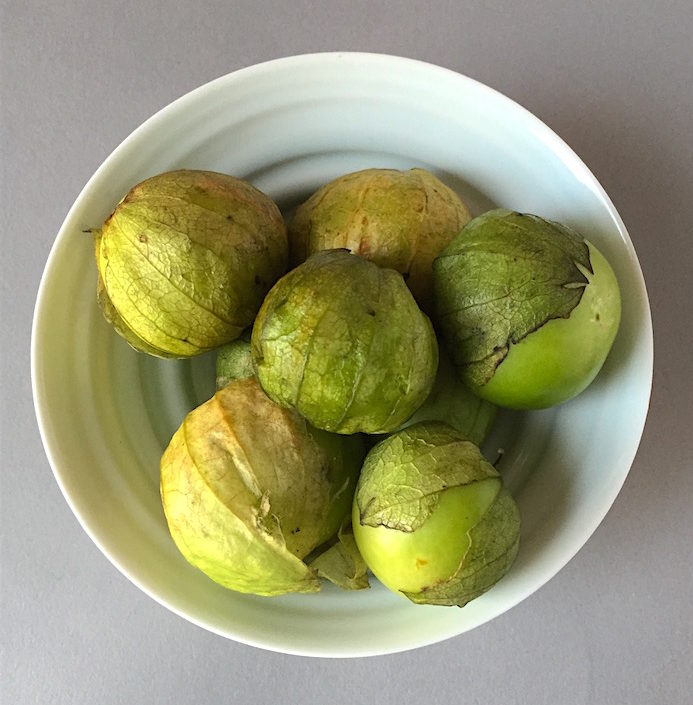 Don't be intimidated if you have never used tomatillos. They are a tangier, crisper and slightly tarter green tomato. If you don't like mango, try papaya or pineapple. This salsa keeps in the fridge for 5-6 days and the recipe makes a lot, so you can eat it with chips, make tacos, use it in chicken salad and still give a jar to a friend.
MANGO SALSA
Purée in a blender or food processor:
6 medium tomatillos, husk removed and quartered

2 TBs minced garlic (about 2 large cloves)

1-2 jalapeño or Serrano chilies, seeded and minced (the number depend on how hot you like your salsa)

1 cup fresh cilantro, chopped

3/4 cup (a small can) unsweetened pineapple juice

1/3 cup white vinegar

1/3 cup fresh lime juice (2-3 limes, depending on juiciness)

2 TBs cumin seeds, toasted (toast in a hot, dry pan until fragrant and browned but don't walk away – watch closely and be careful not to burn)

Pinch of salt
Place in a medium bowl:
3 firm but ripe mangoes, peeled, pitted and diced small

1 medium red onion, peeled and minced

1 sweet red or yellow pepper, seeds removed and diced small

1 green pepper, seeds removed and diced small
Pour purée over diced fruit and vegetables. Mix well and refrigerate. Makes about 1 quart.
Optional add-ins:
1 cup jicama, peeled and diced small
1/2 cup fresh mint, chopped instead of cilantro
1 cup peeled cucumber, diced small
1 cup pineapple, peeled, cored and diced small
1 cup diced avocado (but in this case, it will only keep one day in the fridge)