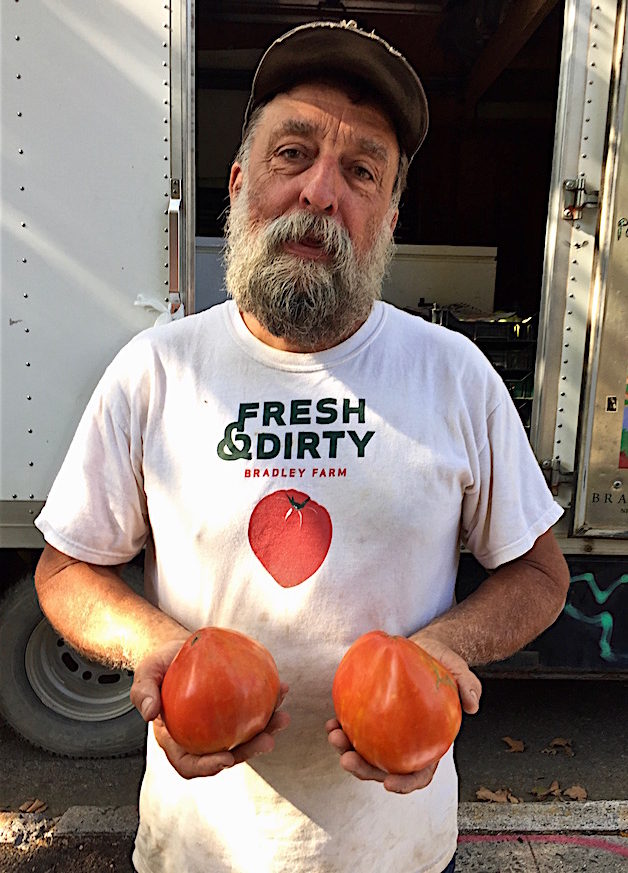 Tomatoes are ripe and tomatoes are Ray Bradley's specialty. According to Bradley, the New Paltz chef turned farmer who grows and sells many different vegetables throughout the year, heirloom tomatoes are his favorites. Bradley farms because he loves to eat and cook what he raises. As it turns out, tomatoes, with their short season, have become a primary cash crop.
One of the best things about shopping at a local Farmers' market, besides all of the fresh, organic and flavorful vegetables, is talking with the people who grow that food. Each one has a back story, none more compelling and meandering through the food world than Ray Bradley. With a cooking background that ranges from Cape Cod, Shelter Island, Florida and Costa Rica and includes stints at Le Cirque, Montrachet and Bouley in Manhattan, he moved into farming in order to grow his own organic vegetables. The full bearded, hardworking Bradley drives from his upstate farm to the 97th Street Market in Manhattan on Fridays during the summer and fall and to the Grand Army Plaza Market, in Brooklyn, on Saturdays year round.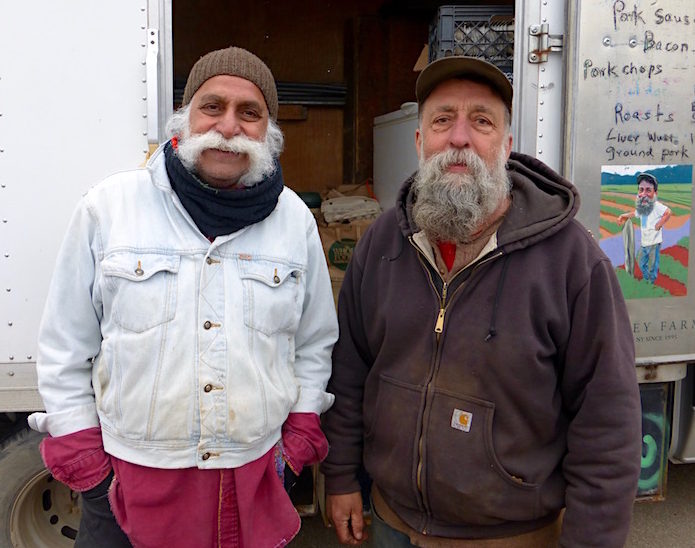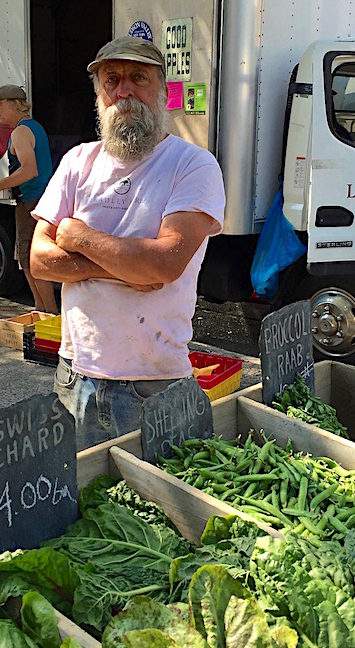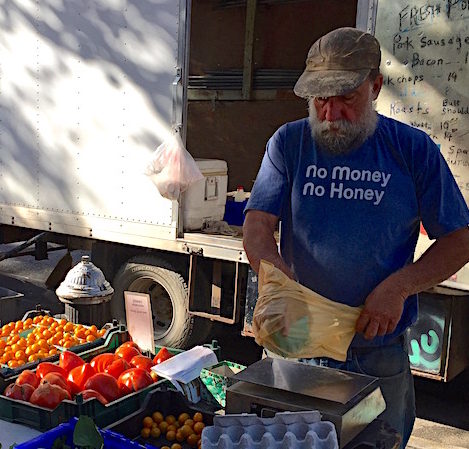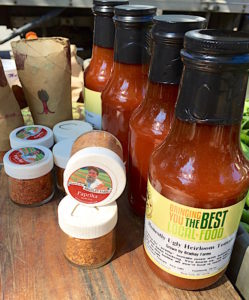 The life of a farmer is fraught with difficulty and Bradley's plight has been no different. He has had floods and droughts, pests and plant diseases but the good years seem to outweigh the bad, overall, he says. In order to bring in more income, Bradley has been an innovator with products – he makes and sells his own paprika and tomato juice – and events. His farm is now known for its on-site, guest chef cooked dinners, often with wine pairings, pizza or grill parties showcasing his farm products, including farm grown salads and his own pork, beer and spirit tastings featuring his own farmhouse ale, as well as a farm stand. Just last week, he hosted a BLT and beer afternoon to celebrate the tomato harvest and his just-smoked bacon. Currently, he is running a raffle to raise money to build an outdoor wood-burning oven to expand his on-farm cooking possibilities.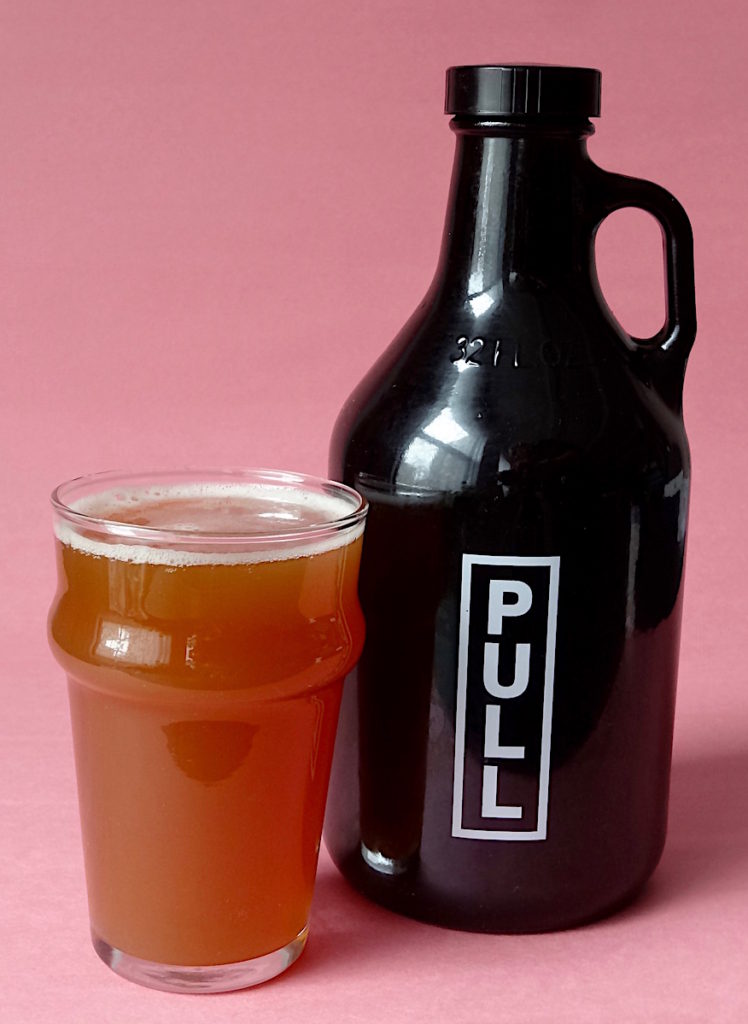 Bradley grows and sells the usual vegetables – broccoli, lettuces, onions, zucchini, peas, beets, parsley, potatoes and cabbage – that you see at most farm stands, although with Bradley, the varieties are specific to his tastes. The only potato he grows, for example, is the Carola, a small yellow-fleshed type, because that is his favorite. But, perhaps as a result of his culinary experience, he also grows a wide variety of less ordinary crops – flat Italian pole beans, fennel replete with fronds, French gray shallots, haricot vert (those delicious skinny green beans), sweet delicata and buttercup squash, fava beans, bush basil (tiny, spicier leaves), sorrel and purslane, a small-leafed lemony green. But his best sellers, by far, are his heirloom tomatoes, which range in size from tiny and round to huge and rippled, and in color from pale green to orange to red to purple.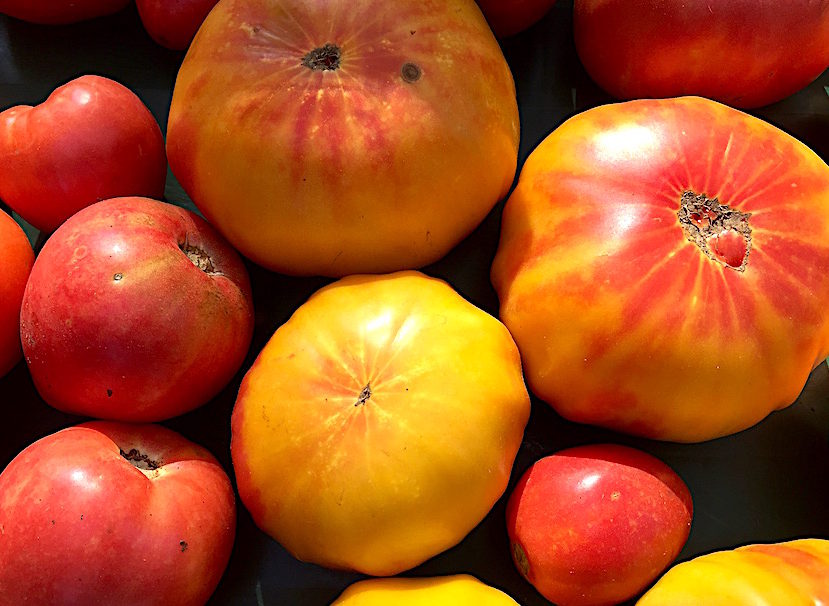 Whether oblong or circular, Bradley's heirlooms are full of flavor. He credits this to both the quality of seeds and soil and the way he raises them. He plants the seeds he saved from the previous year's crop (when he finds a particularly good tasting tomato, he dries and saves those seeds) in April. By May, once any chance of frost has passed, he is transplanting small seedlings into the ground to give them the best chance of putting down good roots. Besides starting with good seeds and amending what was good soil to start with, perhaps the main reason his tomatoes are so flavorful is that he doesn't water them – he says that is what develops the intensity of flavor. Whatever the cause, the tomatoes are delicious – we've been eating lots of them with just a simple vinaigrette and sprinkle of fresh basil or oregano. Bradley eschews vinaigrette, preferring not to mask the taste of his tomatoes. When we eat his heirlooms mixed or side by side with other tomatoes, the difference in flavor is obvious and the Bradley's win every time.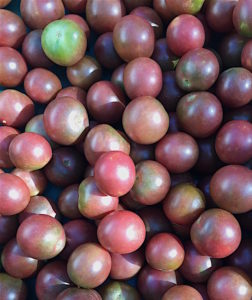 Besides heirlooms, Bradley grows more ordinary cooking, husk and cherry tomatoes. It's hard to stop eating the small yellow/orange or red/green cherries from Bradley's farm – they are sweet and addictive and I rarely get them into a salad because we devour them straight out of the paper bag. Bradley says he uses a tomato peeler with a serrated blade to peel the large tomatoes which he then freezes so he can make fresh sauce during the winter, although sometimes he just tosses them into the freezer whole. When the weather is cool enough, as it is this week, he can make sauce to use in cooking once the season has passed. That way, he can have fresh tomato flavor throughout the year. After all, the reason Bradley grows these gorgeous tomatoes in the first place is because he loves to eat them. Lucky for us!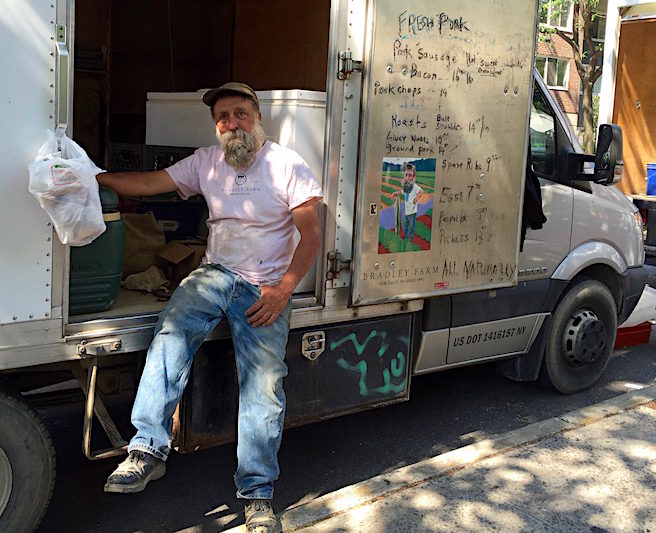 RAY BRADLEY'S TOMATO SAUCE
Preheat your oven to 400F.
Score (cut an x) whole tomatoes with a sharp knife.
Place on a rimmed baking sheet and drizzle with olive oil and sprinkle with salt and pepper.
Roast until skin is peeling off.
Remove skins and put in a pot with some sautéed onions and garlic.
Simmer until they begin to break down.
Cool and put up in glass containers.
Ray suggests sautéing a little onion and garlic and adding the sauce to them to re-heat when ready to use.