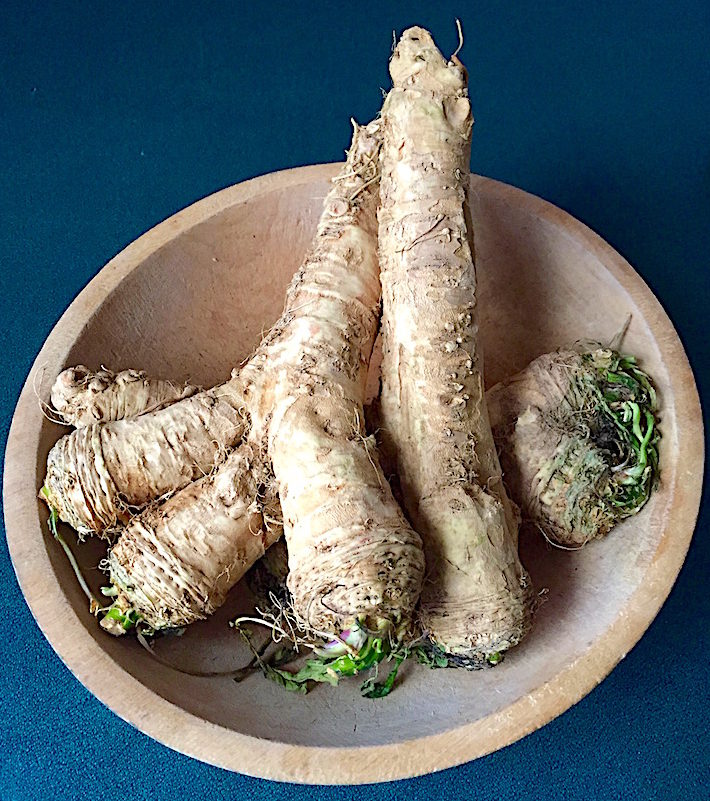 Spring may be the time when we need a potent jolt to wake us out of our winter nesting mode and fully recover from the shift to daylight savings time. Fortunately, spring is the time of year we can find horseradish roots for sale in markets. To me, the roots look like overdeveloped parsnips on steroids. It is the kind of crop one must plant judiciously because once it gets established, I've heard gardeners say, it spreads and takes over other plants. The same is true in recipes – a little goes a long way: too much causes you to gasp for breath but just the right amount tickles your tastebuds.
Horseradish turns ketchup into cocktail sauce and makes mustard zestier (1 part Dijon mustard to 1 part horseradish). It improves stewed or boiled meats, even making pot roast tolerable (for those of us who find it punishment). Horseradish is the body and soul of a Bloody or Virgin Mary, and using homemade gives your drink more intensity. If you want to give an immediately useful gift when you are a brunch guest, bring a jar of homemade horseradish with a good bottle of tomato juice and, if your hosts imbibe, your favorite vodka.
Store bought horseradish is useful as backup but it is anemic when compared to freshly homemade. Horseradish isn't the first thing you might consider preparing at home but is surprisingly easy to make in this era of muscular blenders and food processors. The only challenge is paying attention to when the roots are available, since this is a small window. Be forewarned – don't take a big sniff when you take off the lid after grinding: This will be some powerful sh%#!! My eyes tear up just getting it out of the blender into a jar, so please beware!
HORSERADISH SAUCE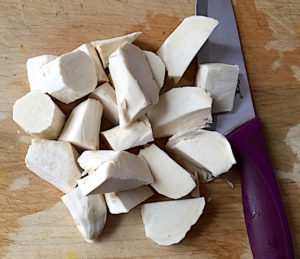 Wash and peel one large horseradish root. Cut in 1″ chunks and put in your food processor. Grind the cut up root by pulsing until it is the desired texture and then add 1 cup of white distilled vinegar and a teaspoon of coarse salt. (If you like a touch of sweetness, add 1 teaspoon of sugar per root. If you want your horseradish pink, add a small cut-up beet). Pulse a few more times until the horseradish reaches the desired consistency. When using a Vitamix or similar blender, add the vinegar before grinding. If the machine stalls, turn it off, stir and add a little more vinegar. In either case, is better too wet than too dry, as the finished horseradish will continue to absorb liquid as it sits in the refrigerator. Please BE CAREFUL when you remove the lid – there will be strong fumes! Spoon into clean jars and refrigerate. Horseradish keeps well in the refrigerator for months but will lose potency over time.