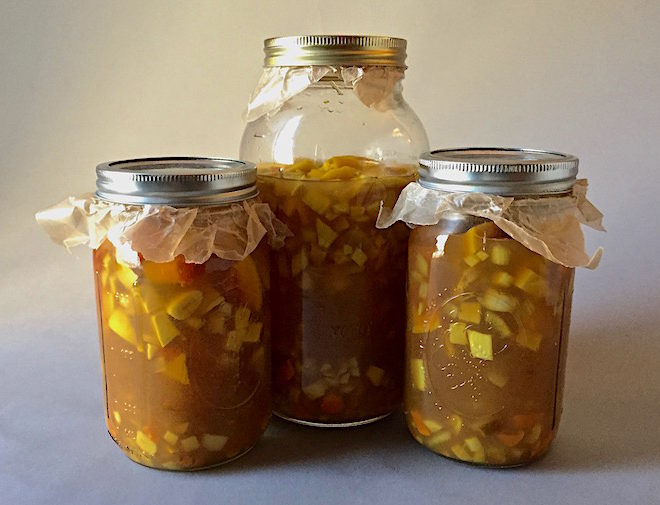 Winter is almost here and that means it is time to bolster your defenses against incoming cold and flu viruses. Of course, wash your hands often, eat healthfully, laugh a lot and get enough sleep. But beyond these commonly known preventive measures, there is something else you can do – make and take fire cider.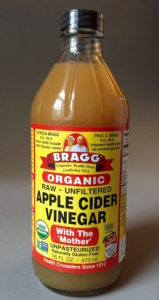 Fire Cider is an herbal concoction (or more correctly – decoction) that may be an old folk recipe for a vinegar tonic made with medicinal herbs. It seems to have been formulated and written down by Rosemary Gladstar, a California herbalist, at the California School of Herbal Studies, in the 1980's. Since then, people have battled over the rights to the name but you don't have to buy the offending brand because you can make your own. Why pay a hefty amount for a small bottle (around $15 for 8 oz) when for a small outlay, you can make a yourself a quart with high quality organic ingredients you choose and control? I first bought Fire Cider from someone selling wild crafted bottles of it at a gas station in Vermont but have since seen it sold at lots of healthy food stores.
The basic recipe was given to me by a friend who is an impressive homesteader – she gardens, keeps chickens, grills paella and, now, makes her own fire cider. It calls for horseradish, onion, garlic, ginger, garlic, turmeric root, citrus and hot peppers soaked in apple cider vinegar for a month. These are herbs and spices known for their anti-inflammatory, antiviral, mucus-thinning, expectorant and stimulating properties. Possible add-ins are a personal choice and could include parsley, rosemary, cinnamon, lemongrass, thyme, echinacea, astragalus root, cayenne powder or flakes, burdock, rosehips or black peppercorns. (Please try to use organic ingredients if you are able). Some people drink it straight. Many sweeten it with honey. If you are vegan, you could use stevia, agave or maple syrup. You can use it as a tonic, taking a daily shot, or as a medicine, sipping as needed to battle congestion, colds or indigestion.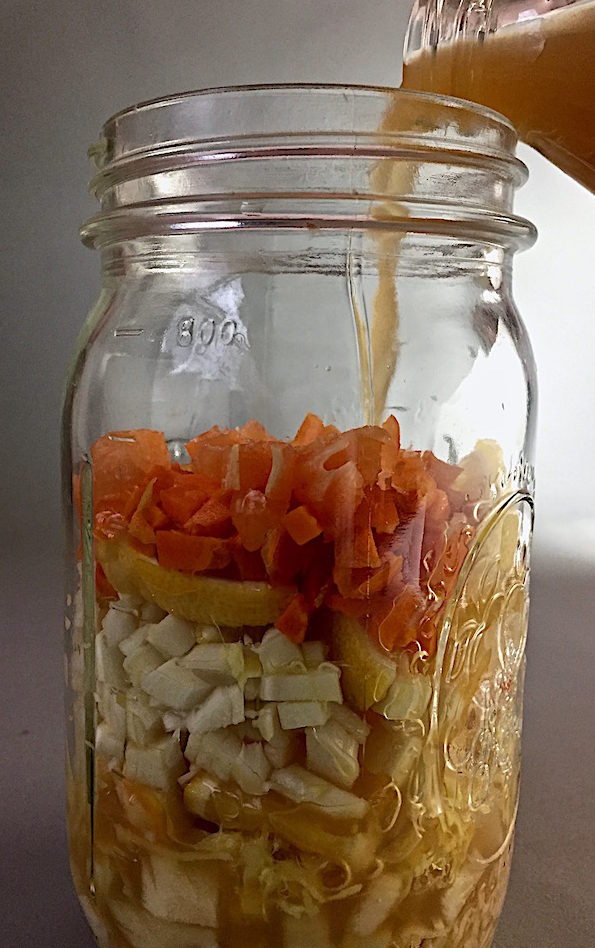 It isn't too late in the season to make this immune booster. If you make it this week, your fire cider will be ready right around New Years when you may need it most. Some cooks use it in salad dressing (as the vinegar component), add it to mustard or put a splash in tea or a cocktail. Once strained, it can sit on a counter in a cool room for weeks or be stored in the refrigerator in a glass bottle or jar. If you go into production this week, you could give fire cider (with the recipe) as a thoughtful, homemade gift for the holidays. Who couldn't use a shot of immune boosting to get through the winter, especially when you'll feel so virtuous?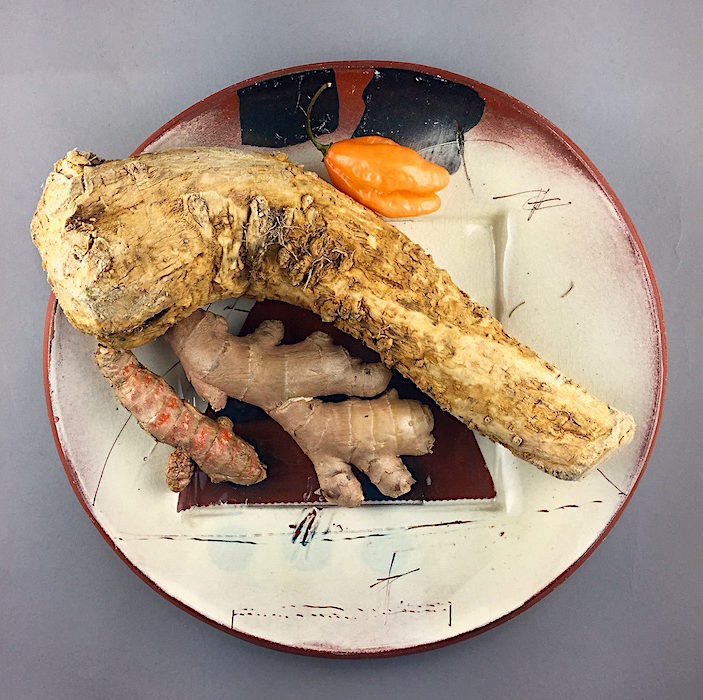 FIRE CIDER
 1/2 cup fresh horseradish root, chopped or grated

1/2 cup onion, chopped

1/2 cup garlic, chopped

1/4-1/2 cup ginger root, chopped or grated

1/4-1/2 cup turmeric root, chopped or grated

1 habanero (or Serrano, cayenne or jalapeño) chili pepper, chopped (please use gloves)

1/2 orange, chopped (including peel)

1/2 lemon, chopped (including peel)

3-4 cups unfiltered apple cider vinegar (Bragg's is a good brand)
Optional ingredients:
1-2 cinnamon sticks, broken

1/2 cup parsley sprigs

1 TBs fresh rosemary leaves

1 TBs black peppercorns

1/4-1/2 cup chopped burdock root

1 TBs fresh thyme leaves

1/2 cup chopped echinacea or astragalus root
 Place all chopped ingredients in a clean glass jar (either 1 half gallon or 2 quart jars will work – dividing the herbs evenly) and pour enough vinegar over to cover contents. Put a piece of waxed paper over the top of the jar and then screw on the lid.
 Let the closed jars sit out for 3-4 weeks at room temperature, shaking daily, or when you remember. After about a month, strain the liquid into a clean jar (if you strain through cheesecloth you can squeeze out every drop) and discard the solids. (Gladstar, who devised the formula, suggest making a chutney from the strained herbs). Taste (be prepared for a strong taste!) and add up to 1/4 cup of raw honey, as you want. Your fire cider can sit at room temperature for a few weeks (if your room isn't warm)or you can store it in the refrigerator. Shake before using.
 Take a prophylactic shot daily, or as needed to feel you are participating in your own good health!