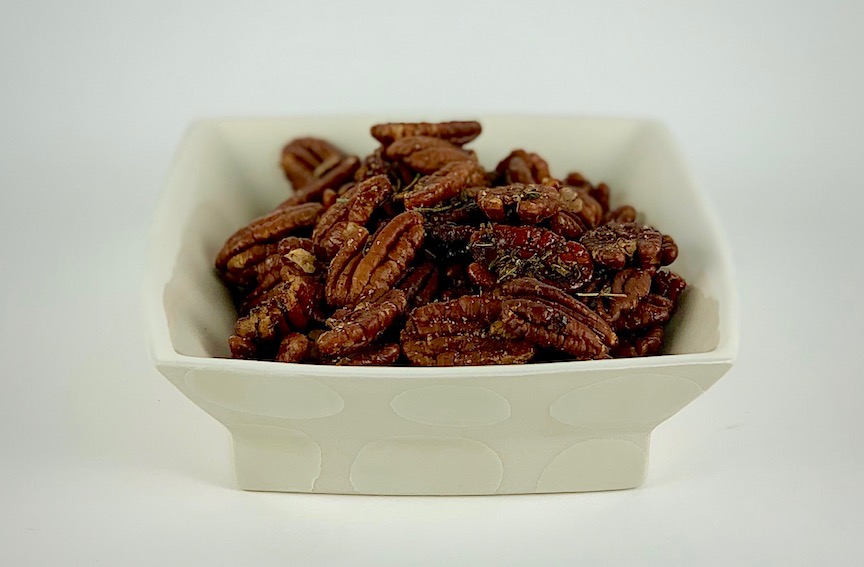 Although it feels like it started at Halloween this year, we are now officially in the holiday season. That means you may be hosting more guests than usual. We tend to have more friends over for dinner and more parties during the cold weather. Not only are more people around during the cooler months but our apartment is too hot in summer to even consider hosting a soirée. I like to put out a cheese board, crudités and dips and serve a warm appetizer or two if not an entire buffet when having a party. But when friends drop by or we invite people spontaneously, nuts alongside cheese and olives are my fallback. This recipe is 15 minutes start to finish. Just melt the butter in oil, add the seasoning, toss with the nuts and bake.
Nuts are nutritional powerhouses that show up on many "what to eat daily" lists. A handful, that is, not a bowl, because although nutrient rich, nuts are also calorie dense so you can't eat them like carrot sticks or popcorn. Sorry. Fortunately they are so tasty, a handful is quite satisfying. And if you think they are delicious all by themselves, the recipe I am going to share with you makes them absolutely scrumptious and perfect for a holiday table or with cocktails.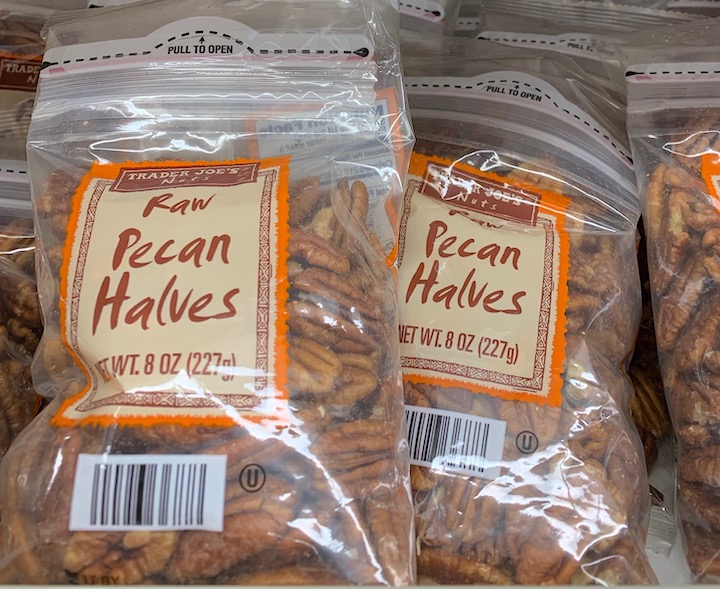 This recipe originated in The Pink Adobe Cookbook by Rosalea Murphy but was made popular when Laurie Colwin published it in her Gourmet Magazine column. It is quite simple – just walnuts, butter, rosemary, cayenne and salt but easily adapted to suit individual tastes. I prefer pecans or cashews (although I think walnuts are actually more nutritious) and using chipotle chili powder over cayenne for its smoky flavor. Because they are a bit "hot", you actually won't go through a whole bowl yourself. I tried using olive oil in place of the butter, and you can, but it just wasn't as delicious. My solution was to use a tablespoon of each. If you like spicier nuts, you could easily add more cayenne or add black pepper. If you hate rosemary, use thyme alone or skip the herbs and use curry powder. And if you like sweet, add a spoonful of sugar, honey or maple syrup to the melted butter and spices. Try these with your own spin and tell us which you prefer. (A word of warning – don't just turn off the oven and leave the nuts in it – they will continue to darken or, worse, burn).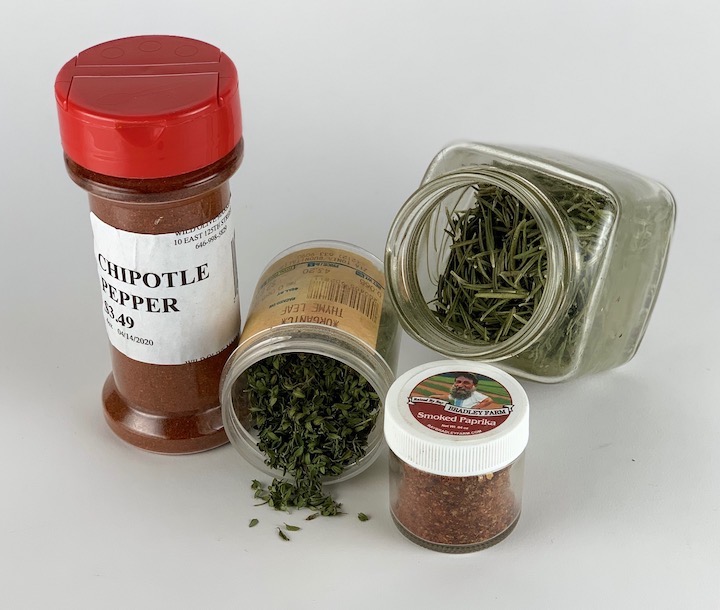 A few nuts may be the perfect accompaniment to a cocktail or beer, providing a little nutritional snack to balance out the alcohol you are downing. They are a great party food since they can sit out for hours without refrigeration and the rosemary in this recipe makes the nuts taste holiday special. Unlike many spiced nut recipes, including my all-time favorite with curry and chutney, these have no added sugar. Below is the original recipe and the one I adapted and prefer. I like to serve them with a spoon or in a bottle so people don't dip their hands in and touch the nuts others will put in their mouths. At the Old Church Pottery Sale (which is coming up this weekend-as it does every year after Thanksgiving in Demarest, NJ), the caterers put out  nuts in small individual glasses to avoid such hand dipping. However you serve them, these nuts are delicious and stay fresh in a covered container for a week or two. And if you need a homemade holiday or host gift, a bag or mason jar full of spiced nuts could be perfect.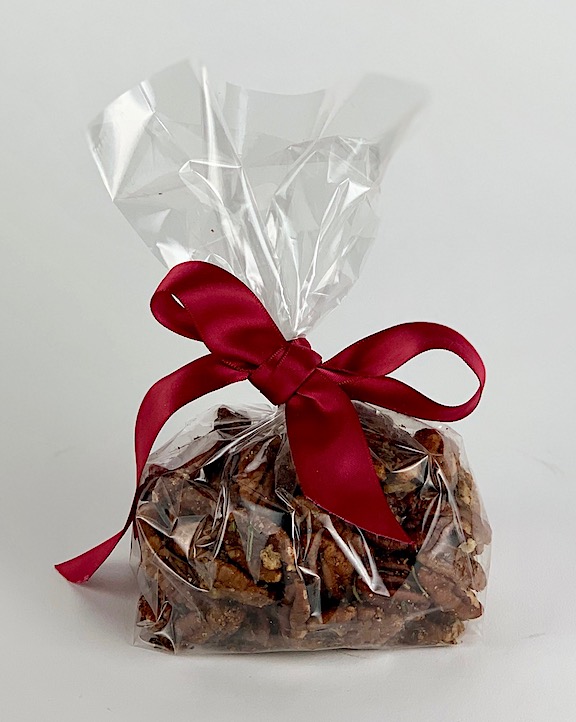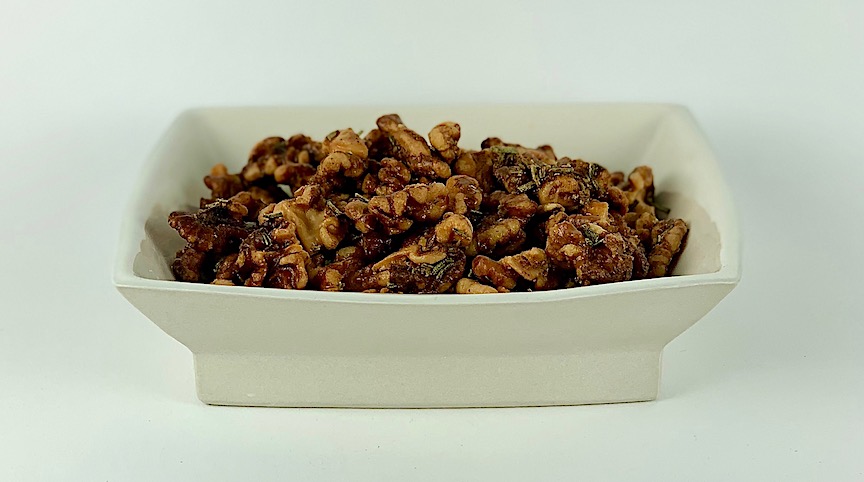 PINK ADOBE/LAURIE COLWIN ROSEMARY WALNUTS
2 cups shelled raw walnuts

2 1/2 TBs butter

2 tsps crumbled dried rosemary

1 tsp salt

1/2 tsp cayenne
Preheat the oven to 350 degrees Fahrenheit
Melt the butter and add the seasoning.
Mix in the nuts.
Spread on a parchment paper covered pan and bake 11-12 minutes, stirring occasionally until browned.
Cool and serve or store in a covered container.
MY SMOKY PECAN VERSION
2 cups shelled raw pecans

1 TB butter plus 1 TB olive or avocado oil

1 tsp dried thyme

1 tsp crumbled dried rosemary

1/2 tsp chipotle chili powder or 1/2 tsp cayenne

1/2 tsp smoked paprika

1/2-1 tsp kosher salt (I use Diamond Crystal because it is less salty than Morton's)
Preheat toaster oven to 350 degrees Fahrenheit.
Melt butter in a saucepan and add the seasoning.
Add in the nuts and stir to coat well.
Pour onto a parchment paper lined toaster oven pan.
Bake for 11 minutes, turning once.
Cool and serve or store in a glass jar for up to 2 weeks.