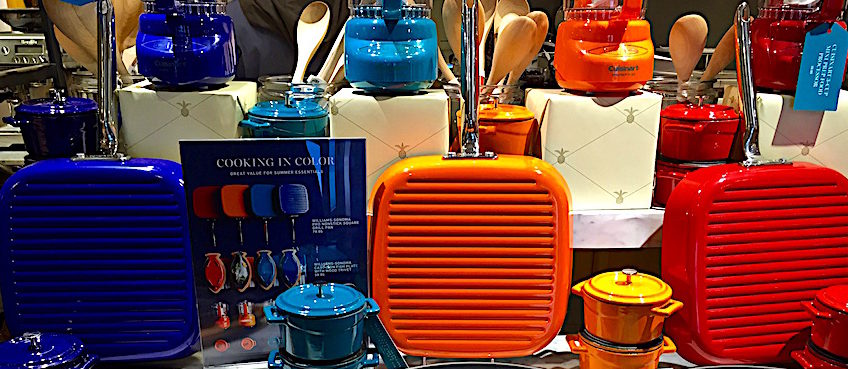 Browsing a kitchenware store is one of my guilty pleasures (along with strolling through bookstores, flea markets, art supplies, handbags, spice or specialty grocers and a good factory tour). The colorful enamelware pots and colanders attract me like a child to candy bins. While admiring, lifting and examining each pan or sieve, I imagine the scrumptious dish I will prepare in or with it, as if it were already in use. Unfortunately, this preoccupation has resulted in overstuffed kitchen drawers and cabinets, from which I am routinely culling items to add to the give-away pile.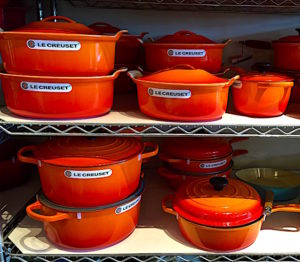 We really only need a few cooking pots and pans in our kitchens, not a whole fleet. Cookware manufacturers and salespeople would have you think otherwise but as I cook more, I've realized that many pots do double duty and many are so similar as to be redundant. Why fill your walls and cupboards with cooking pots and lids that get used only occasionally? If you have an enormous kitchen with unlimited storage – okay – you need not read on. But for most people, deciding how to stock one's kitchen is a matter of space and utility. For example, if you make paella regularly, you may want to keep that paella pan but if you make it once in 2 or 3 years, your large skillet will suffice. If you only use your wok every 5 years, couldn't you find a better use for all that space and make do with that same large skillet?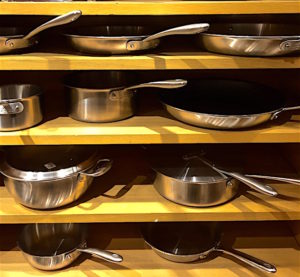 Especially in an apartment kitchen, I have to be conscious of the value of cabinet footage, and mindful of what I hoard behind closed doors. (I am especially conscious of this reality this week as we are painting our apartment for the first time in more than 15 years and I have to pack and move each one of those hoarded items). I love stainless steel pots (as they are non-reactive) and cast iron pans (for their heat retention) and I prefer heavier to lighter. My husband, a very good researcher of consumer durables, among many other areas, came to our relationship with several excellent Paderno pots from Bridge Kitchenware that we are still using more than 25 years later. We purchased and were gifted several pieces of All Clad Stainless (love the brushed steel Master Chef) and Le Creuset (addicted to Caribbean and Flame) and I think those are both still the gold standard. Full disclosure, I definitely have accumulated more than I need because some are so beautifully crafted or colored or have sentimental attachments. But as I learn the value of less, I am slowly deaccessioning even my beloved kitchenware.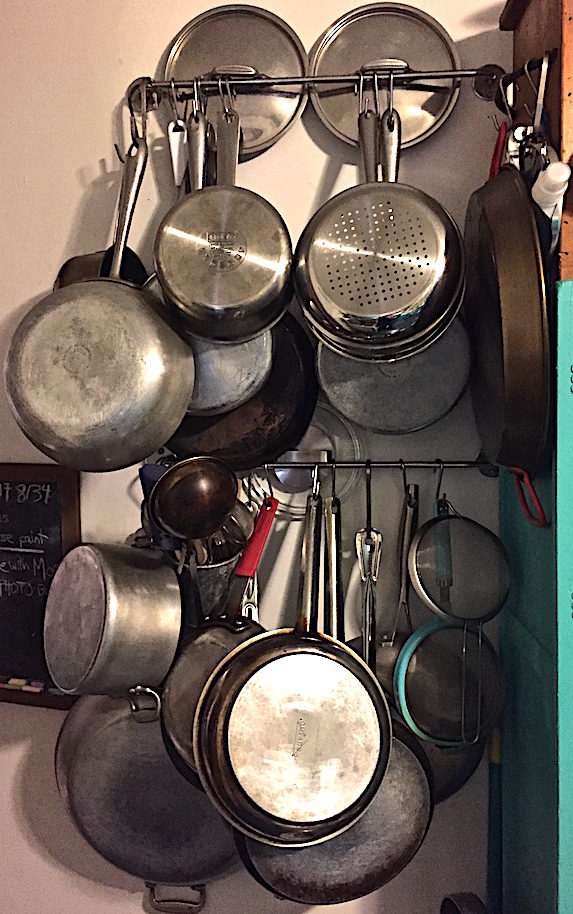 I gave up on Teflon years ago but do use one Tramontina non-scratching, PFOA-free, non-stick pan for making eggs. I ditched my crepe pan (skillet works fine) and egg poacher (saucepan substitutes perfectly) but held on to the wok, extra saucepans (how can I get rid of such good quality pots when I know I am going to need them when I burn yet another after forgetting to set a timer?) and that extra huge stockpot. And this is not mentioning the broiling, roasting and baking pans! Perhaps writing this post is a semi-conscious effort at listening to my own words. In the long struggle to lighten up, I am making steady progress in the kitchen, although that wok ….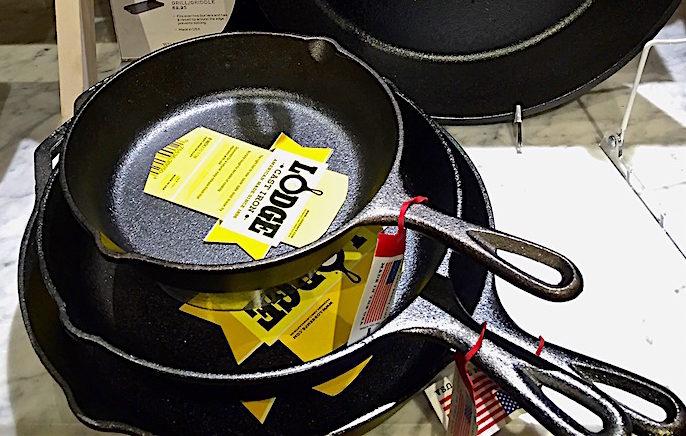 Here is a list of my essential stovetop cookware:
Large stockpot (12 – 16 quarts, depending on the volume of soup you make)

Large skillet (mine has a 16″ diameter but I like to cook for 6-8 at a time)

Small non-stick skillet (for making your eggs in the morning although you might try seasoned cast iron if you don't want to use a pan with a non-stick coating)

Small saucepan (handy for everything from boiling a couple of eggs to melting butter to reheating a bowl of soup)

Medium saucepan (ditto only larger as well as steaming vegetables, making sauces, rice, etc.)

Medium stockpot (8 quarts – perfect for pasta, deep frying and larger amounts of vegetables, dumplings, and so on)

Cast iron skillet (I found mine at a yard sale butThe Sweethome (com) recommends the Lodge 12″ for around $20.

Whistling tea kettle (I've burned out the bottom of enough kettles that the whistle is essential)
Beyond that, if you have space or cook a lot, I would recommend:
A cast iron grill pan

A Dutch oven, preferably enameled cast iron so you can cook with acid things like vinegar and tomato (for braises, stews, baked beans and anything that gets seared and then roasted)

A mid-sized saucier (a saucepan with sloping sides for anything, like a sauce or roux, that needs whisking, risotto and, my favorite use – a big batch of asparagus)

A double boiler steamer that fits into your medium saucepan (for steaming dumplings, reheating leftovers, etc.) and a double boiler for cooking over water (You can use a stainless steel bowl set over a saucepan of water for melting butter, chocolate, etc. but if you make a lot of custards or puddings, you will need a pot to fit on top.)

A cast iron griddle that fits over two stove burners and is great for pancakes (which my guys love)
Please – do as I say, not as I've done!