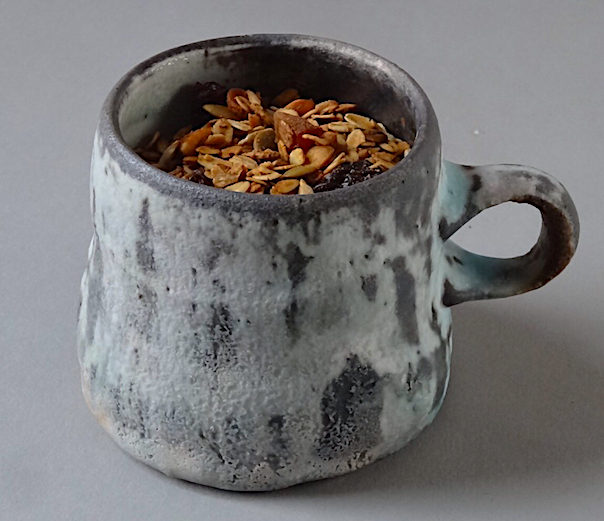 I make granola about 3 times a year. Once for the birthday of a dear friend who loves it, perhaps once a year when out-of town friends visit and I need a breakfast to leave out and once at the end of the year for holiday gifts when I don't feel capable of assembling something more complicated. Granola only takes about an hour to bake, is easy to make and fun to vary.
Oats are the main ingredient but everything may be modified to suit your taste. Use part rolled oats and part rolled barley. If you don't like almonds or walnuts, use pistachios or hazelnuts. If you prefer pumpkin pie spice or cardamom to cinnamon, go for it. If you want to add dried cherries, goji berries, mulberries or pineapple instead of apricots, dates or raisins, substitute as you please. Even the sweetener is flexible – if you don't want to use or don't have maple syrup, use agave, honey or brown sugar. Vanilla is a choice. You could use maple or almond extract or leave it out altogether. You could grate in some lemon or orange zest or add shredded or flaked coconut. The recipe below is the way I prefer it but if you have strong preferences, try them.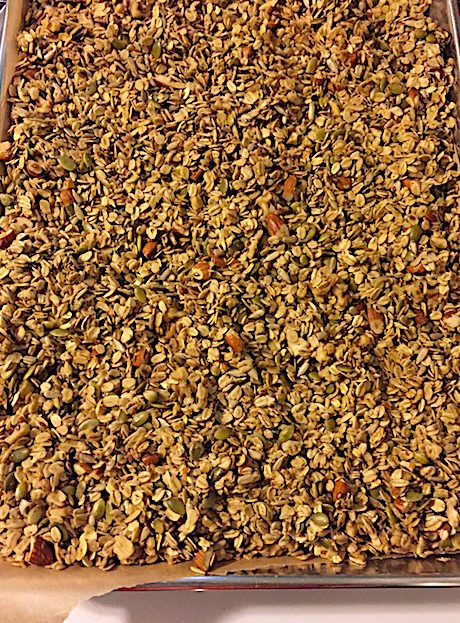 How you package your granola to gift is also up to you. Glass jars are perfect for storing granola so I usually use a Mason jar, with raffia tied around the lid if I am gifting. Cellophane bags wrapped with ribbon work well as would ziploc bags with a pretty label affixed. Including a printed or hand-written recipe is a nice touch and makes it an even more useful present (just punch a hole in the corner of the recipe card and you can tie it on with the ribbon or raffia).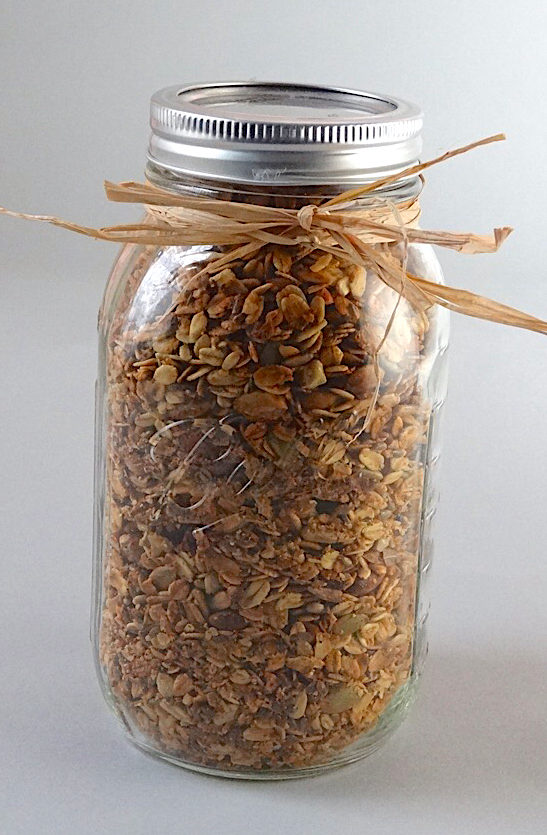 This recipe is lower in oil and sugar than most but it is still not a low calorie food. I enjoy a bowl of granola with milk or yogurt each time I make it but I can't keep much of it around or I would constantly be snacking on it. Like candied or curried nuts, for me, granola is best made and given away or stored in the freezer for when guests visit. You may have better self-control and in that case, keep a jar in your kitchen for hurried mornings or light dinners on nights you come home too late to cook. At this busy time of year, any lucky recipient will appreciate your healthy and delicious gift.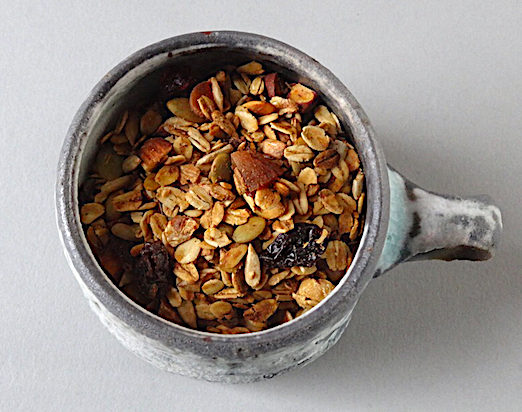 GIFTABLE GRANOLA
6 cups old-fashioned rolled oats (not quick cooking, not steel-cut)

1-1 1/2 cups raw pumpkin seeds, hulled

1-1 1/2 cups raw sunflower seeds, hulled

2 cups raw nuts, shelled and coarsely chopped (I use almonds and walnuts but pecans, hazelnuts and pistachios all work)

3 TBs flax seeds

1/4 cup extra virgin olive oil (or avocado, coconut or grape seed)

1/2 – 3/4 cup maple syrup (or honey, agave or brown sugar), depending on how sweet you like it

1/2 tsp vanilla extract, optional

1/2 tsp ground cinnamon (or pumpkin pie spice, ginger or cardamom), optional

1 tsp salt
Possible add-ins after baking:
1-2 cups of any combination of raisins, currents, chopped dates or apricots, dried cranberries or cherries, chopped dried mango or pineapple, goji berries, mulberries, chopped dried figs, toasted coconut flakes or shredded coconut, chopped dried apples or pears

1-3 TBs chia and/or hemp seeds
Preheat oven to 300 degrees.
Mix oil, syrup, vanilla, cinnamon and salt in a large bowl.
Add oats, seeds and nuts and stir until well combined.
Spread the mixture in an even layer on a parchment lined rimmed baking sheet (the parchment just makes clean up easier).
Bake, stirring about every 10 minutes, until oats look toasty, about 45 minutes but watch carefully at the end.
Remove from oven, sprinkle with a little salt if you like, and cool completely.
When completely cool, add chopped dried fruit, or whatever you like, and package in jars or bags.