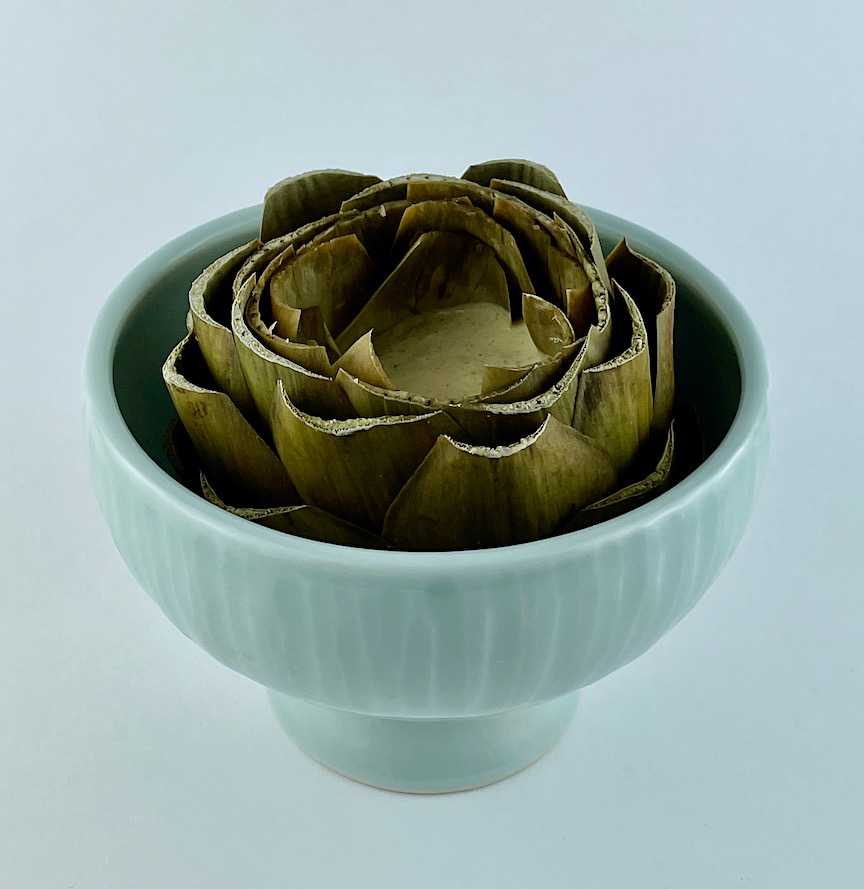 Now that fresh artichokes are available in grocery stores, you want to make something delicious in which to dip their leaves. A steamed artichoke, a vegetable rich in folate, is a treat with melted butter but is elevated to another state with a scrumptious dip. Hollandaise sauce, a traditional accompaniment to both artichokes and asparagus, has always been too rich for me. Plus, unless I've met the chicken whose eggs I'm eating, anything with raw egg in it makes me skittish.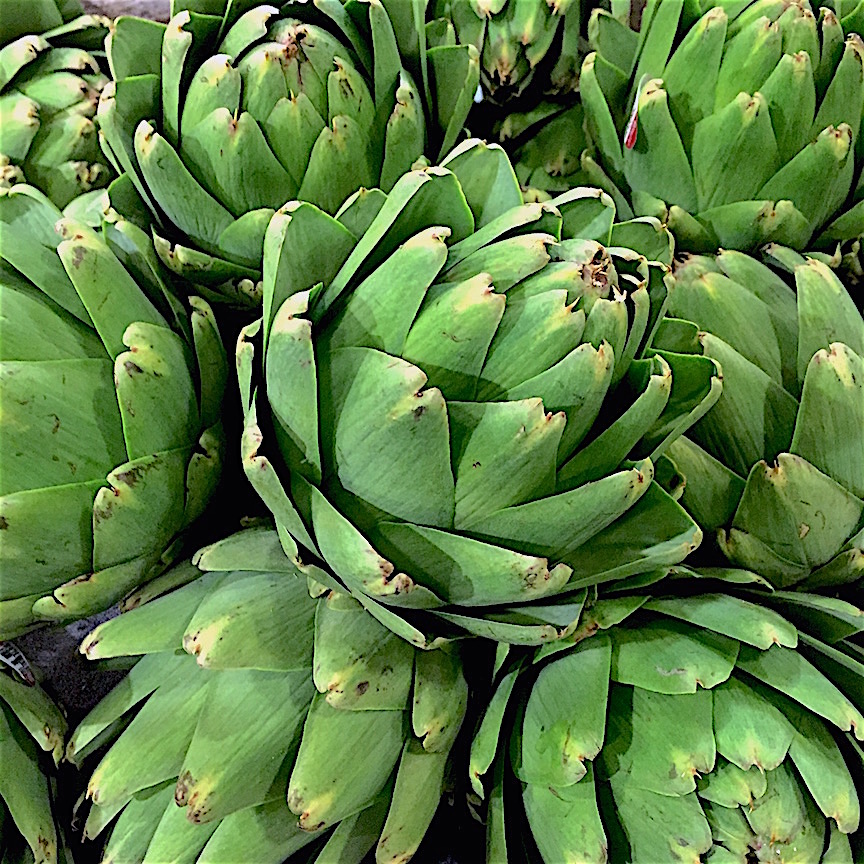 Growing up, we dipped our artichokes in a homemade mustardy vinaigrette with chopped, hard-boiled eggs.  My mother clipped the recipe from a monthly newsletter 40 or so years ago and still pulls it out every spring to sauce artichokes. When I went to copy down the recipe decades ago, it was already worn and speckled with drops of oil and now my own copy looks much the same. The original recipe in the newsletter came from Paul Steindler, a Czech chef who ran La Popotte restaurant in New York.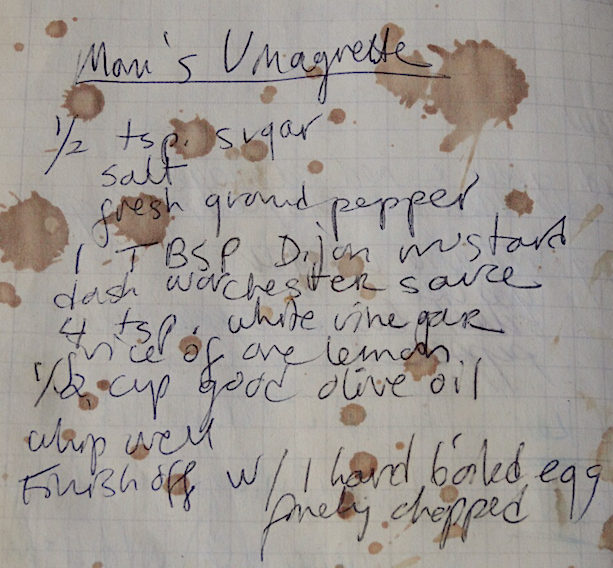 For years I made Mom's recipe just as she had prepared it, but then it occurred to me that a few changes might lighten it up a bit. I swapped in apple cider vinegar for white distilled, replaced the white sugar with date purée and went back to the Dijon mustard that was in the original (not the bright yellow "French's" hot dog mustard she used in those days). The newsletter recipe called for half a cup of olive oil but that made the vinaigrette too rich for my taste and tolerance. I cut the oil to 2 tablespoons and instead of adding a chopped egg at the end, I added 2 hard boiled eggs and blended them completely to thicken it all into an unctuous and tangy dip, much lighter than the original. For a vegan version, you could try substituting aquafaba or flax slurry for the eggs. If you want it more yellow, add some turmeric.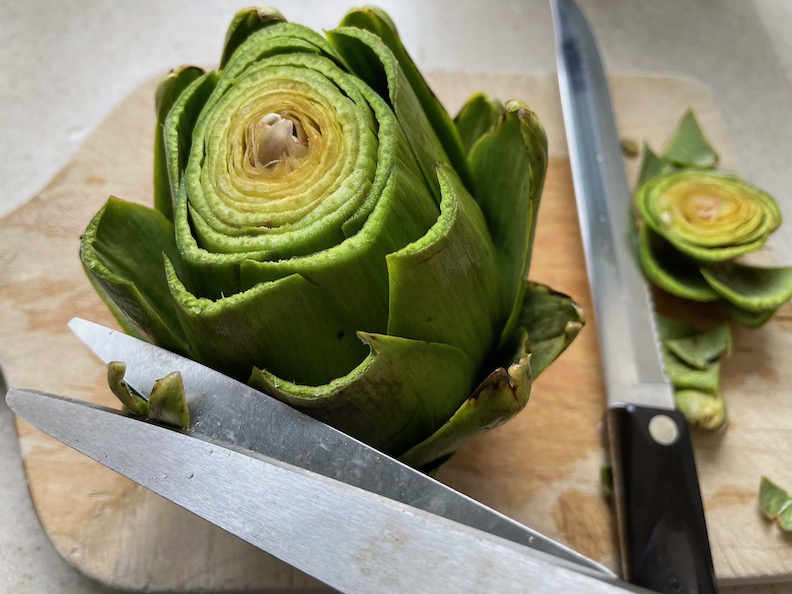 We still celebrate spring with artichokes and asparagus dipped in this delicious mustardy vinaigrette only now I feel good about making it. This combination of a vegetable with a protein makes it a meal, especially if you don't want a heavy supper. If there is any sauce left over, it makes a pretty good dip for carrots or cold leftover asparagus or to enliven plain cooked fish or chicken. You can prepare this vinaigrette ahead, as it will keep in the refrigerator a day or so, and just re-blend it while the artichokes or asparagus are steaming.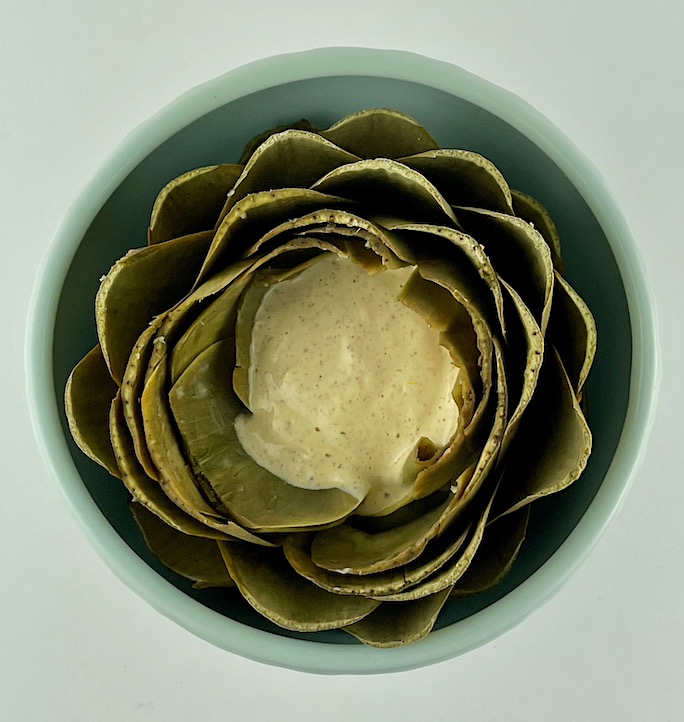 UN-HOLLANDAISE OR HOLLANDAISE-ISH SAUCE
Process until smooth in a blender:
3 Tbs freshly squeezed lemon juice

1 Tb apple cider, white or white wine vinegar

 

2 Tbs Dijon mustard

 

1 tsp date purée or syrup (or maple syrup, honey, agave, sugar)

1/2 tsp Worcester sauce

 

1-2 Tbs olive oil

1/2 tsp salt

1/2 tsp black pepper

Pinch turmeric-optional

 
Add and blend until smooth and thickened:
2 hard boiled eggs, peeled
Great as a dip for artichokes (pour right into the center of a cooked and cleaned artichoke or in a small bowl for dipping) or drizzled over steamed asparagus. Store any leftover in the refrigerator for one day. Fills 4 large artichokes.
I originally posted this recipe in the first year of A Good Dish. This is an updated version with new photos to reach all new readers who have subscribed in the last five years and to remind others to make it. Thanks for reading along.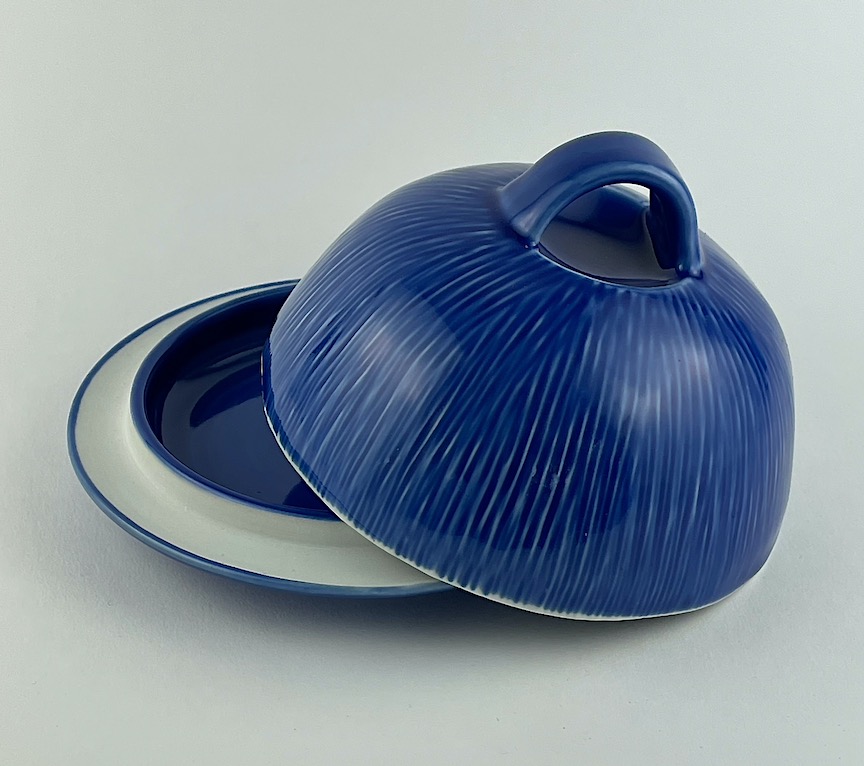 Janel Jacobson makes carved and fluted functional porcelain and stoneware pots, paying attention to form, surface and function. Once a student of Marguerite Wildenhain in California, she makes pots and carved wood sculpture in the Sunrise, Minnesota studio she shares with her husband, potter Will Swanson. Jacobson and Swanson will be one stop on the Mother's Day weekend St Croix Pottery Tour I have longed to attend for many years. Fortunately , there will be an online sale in conjunction with the studio tour this year. Hope to get there in person next year!