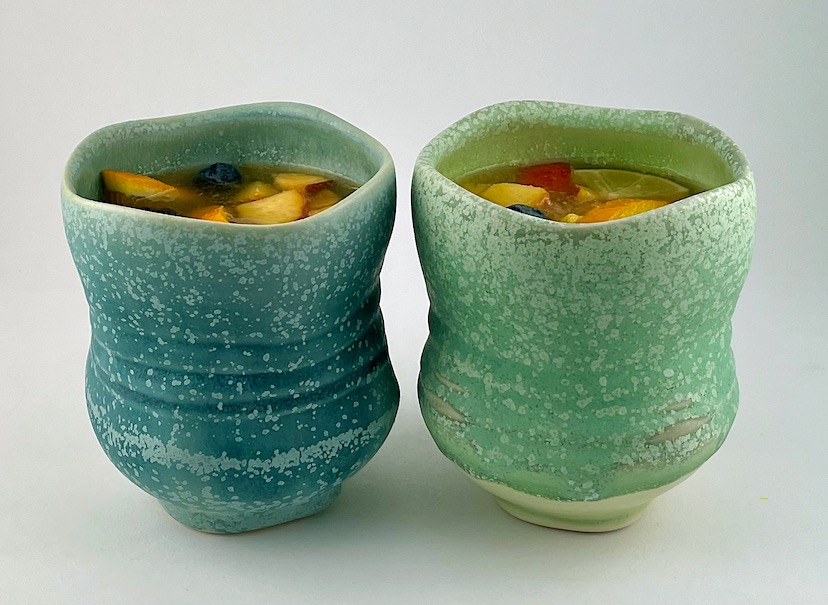 We have been pretty lucky heat wise on the East Coast this summer although farmers might have preferred hot and dry to flooding. Now, as temperatures and humidity are rising, I think less about cooking and more about drinking. Because I am primarily a social drinker, I haven't been drinking a lot this year but lately have had a craving for something light and fruity to sip. Last summer I mostly drank an Americano, a vermouth and Campari blend. Still wanting something low alcohol and wine-based, my thoughts rambled onto sangria.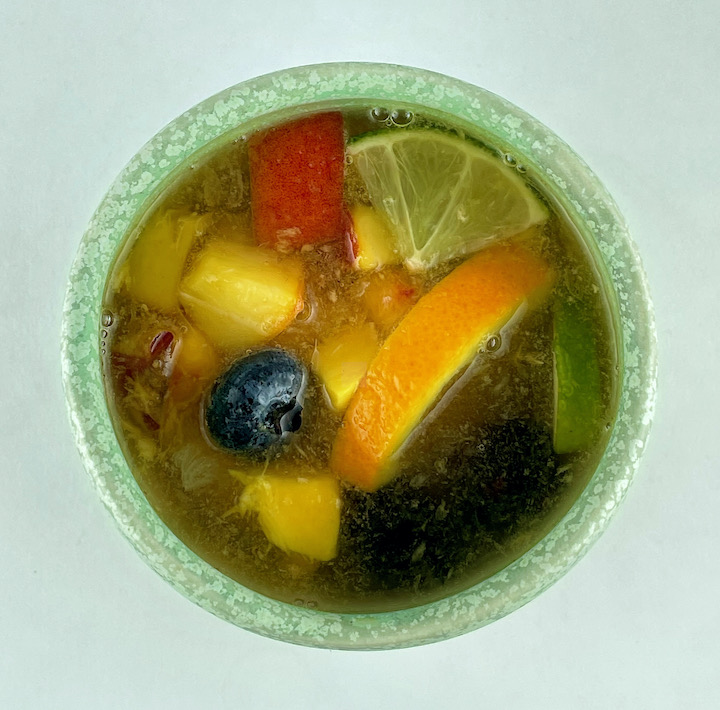 All of the sangria I have made or drunk over the years has been of the common red wine variety. I've seen white sangria on menus but never tried it so in the spirit of educating myself (and because a bottle of Prosecco has been on our counter calling my name all summer), I decided to explore and experiment. What I discovered is that almost any decent white or rose wine (still or sparkling) will make a tasty drink and you can use fruit juice to sweeten in place of added sugar, if you prefer sweeter, or add a little sweet white vermouth.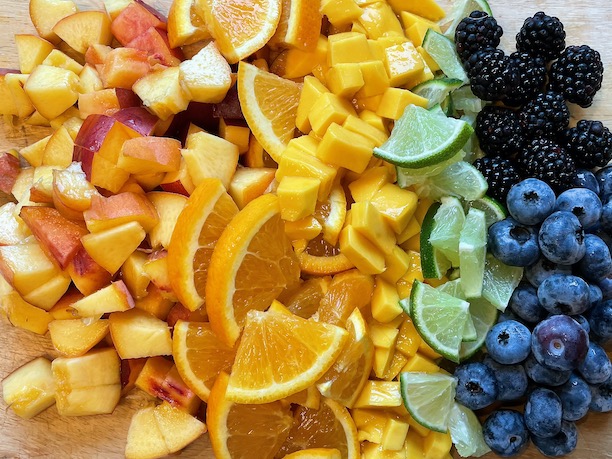 Brandy is the most commonly added liquor but I think it is too strong for a white sangria—save it for the red sangria. I had some St-Germain so I used that and it was delicious. A wide variety of alcohols, including Grand Marnier, Cointreau, Triple Sec or any fruity Schnapps will do, depending on your preference or what you have on hand. I think citrus fruits and berries are particularly good in sangria and, at this time of year, I would use peaches, nectarines, apricots and plums over apples, grapes and pears, which are more typical. Mango and kiwi add a lot of sweetness. My husband thinks all these choices are too confusing but sangria really is completely adaptable to personal taste. My recipe is just an outline or guide. Most importantly, start with a wine you like as the base. I used a Sauvignon Blanc but I would also be happy with a white Rioja, Pinot Grigio, Riesling or Gruner Veltliner. Then whichever fruit you choose, make sure it is plentiful and whatever mixture you concoct, be sure to chill it thoroughly. Last suggestion–if you choose to use sparkling wine or sparkling water, add it just before serving so it stays bubbly.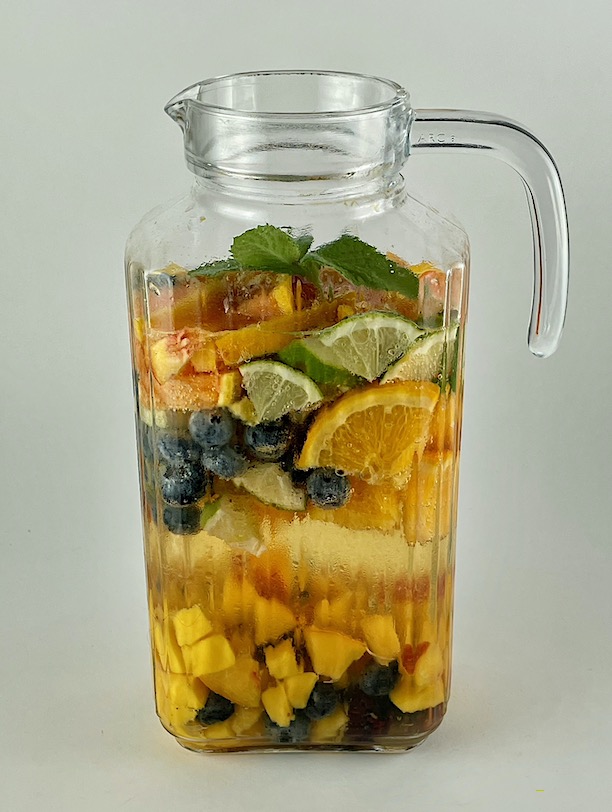 WHITE OR BLUSH SANGRIA 
1 bottle white or rosé wine

1/2 cup St. Germain (or liquor of choice, see above)

1 cup orange juice (strain if you don't like pulp) optional

1 orange, sliced thinly and quartered

1 lemon, lime or grapefruit, sliced thinly and quartered

1 cup berries (blueberries, blackberries, raspberries or sliced strawberries all work)

1-2 peaches, nectarines, apricots or plums, sliced and halved 

1 mango, cut in bite-sized chunks

1-2 cups chilled sparkling water, optional
Cut fruit bite sized and put in a large pitcher or half gallon jar.
Add wine, liquor and juice. (If using sparkling water or wine, don't add until just before serving)
Chill for at least a few hours. Serve with straw spoons, if you have them, or just spoons to get up all that fruit.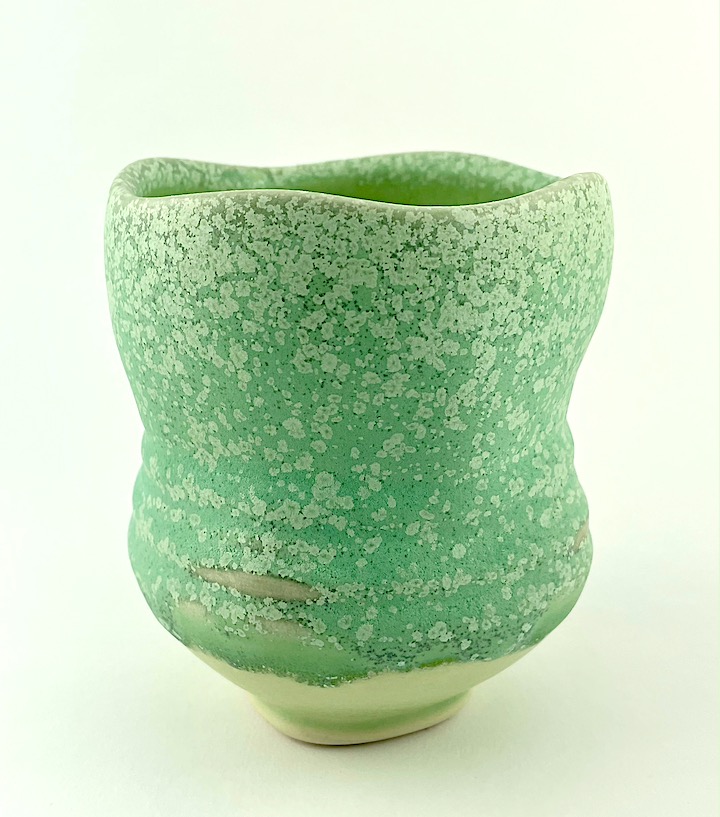 Simply put, Gwendolyn Yoppolo is a glaze wizard – she experiments tirelessly and her results are a true pleasure to behold and use. The colors of her crystalline matte glazes are soft yet intense and the colors run over the rims onto the pearly white interiors, making visible what you are drinking while framing it. Yoppolo's tumblers are cinched and ribbed at the waist, making them comfortable to hold. The lips are thoughtfully undulating and compressed in a way that keeps your eye moving yet ensures ease of drinking. It isn't that easy to find her work for sale so keep an eye on the "upcoming" section on her website.