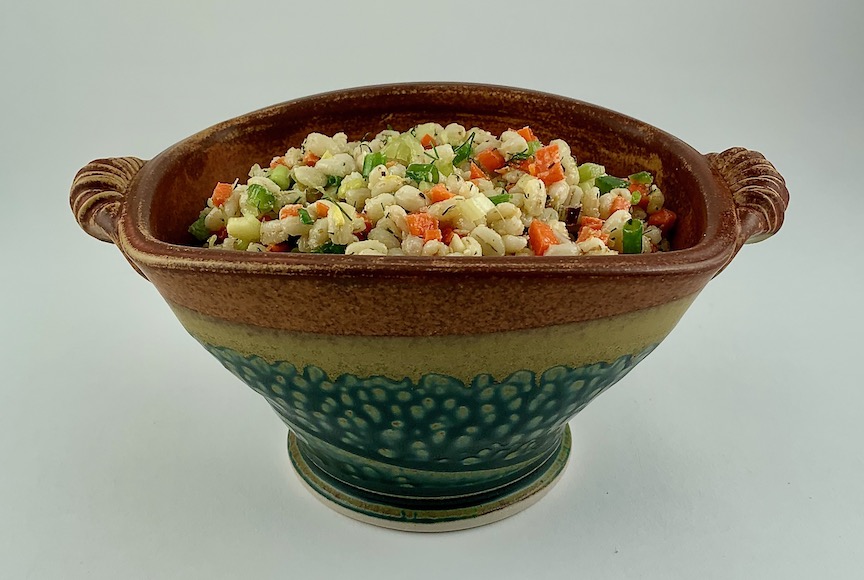 Labor Day is not only the American celebration of workers but also the traditional day off to mark the end of summer even though technically the fall equinox is still weeks away. Although this has been a strange summer for so many reasons, September's cooler nights and memories of back to school spark hopefulness for me. Labor Day usually brings to mind union parades, barbecues and last gasp summer picnics. With all that not happening, I propose we try to use the day this year to recharge for all the political work ahead. We can still grill or picnic, even if by ourselves, with the people we live with or distanced with our neighbors rather than in unsafe large gatherings. A great dish for a still-warm-but-getting-cooler outdoor meal is a zesty barley salad with lots of vegetables and herbs.
Barley is a nutritional powerhouse. It happens to be one of my favorite grains and I am always looking for new ways to use it. I found a recipe for a cold barley salad by Melissa Clark using barley and it was pleasant, a little bit tangy and chewy in a good way, but needed some oomph. Maybe in ordinary times it would have been enough but in these fraught days, I seem to want stronger flavors. There is something soothing about barley, perhaps the sweetness or the density of the "chew," but it can take quite a lot of seasoning. So I used Clark's recipe as a springboard and tried to add crunch and zing.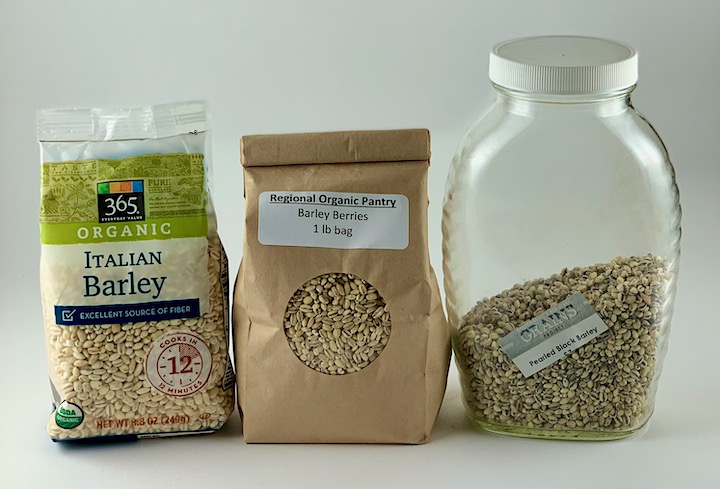 Barley needs to be cooked thoroughly, but overcook it and it turns to mush. This is great if you want a porridge, but for a salad you want some density so watch the cooking time and keep  testing while it simmers. I tried both pearled Italian and black barley because they cook faster (important when there is no air conditioning in your kitchen) but hulled works, too, for more nutrition and fiber. If you don't eat gluten, try making this with Job's Tears (little orbs of chewiness that for years I thought was a type of barley but is a completely different grass seed called coix seed) but it is harder to find.
Raw vegetables add textural contrast, color and nutrition to the barley and hold up to whatever vinaigrette you use. I find them most appealing finely diced rather than in big chunks or slices, but that is a personal preference. I use dill and parsley but fresh cilantro, basil, oregano or mint could all work. My vinaigrette is pretty simple with garlic, cumin, lemon or lime juice and mustard but curry, balsamic, tamarind or sesame could be delicious additions. Carrots, celery and jalapeños are my go-to veggies here but chopped cukes, roasted peppers, cooked corn, sun-dried tomatoes, avocado or radish would be good, too. A rinsed can of beans makes this salad a complete vegan protein or you can serve it as a starch alongside some cold or grilled chicken or fish. Make it a few hours ahead and the flavors will really pop. Composed of mostly pantry ingredients, this salad is an easy one dish meal for a warm end of summer day. Happy Labor Day!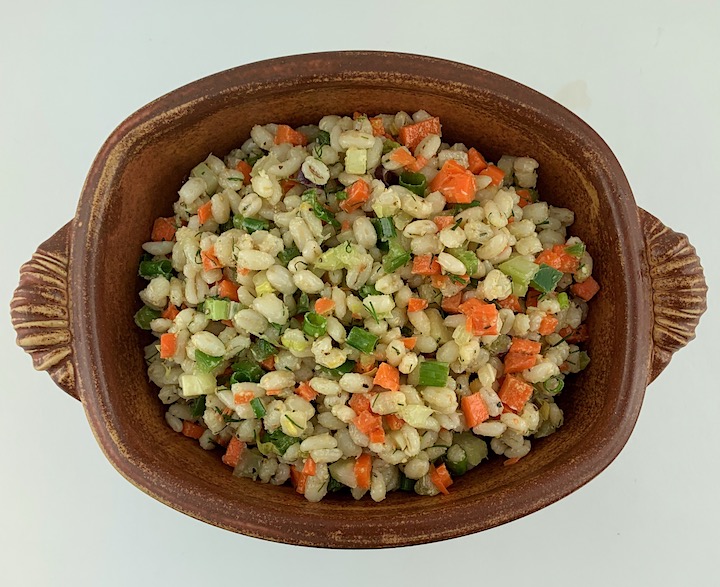 EASY BARLEY SALAD
1 generous cup uncooked pearled or hulled barley

2 medium carrots, finely diced

2 stalks celery, finely diced

1 jalapeño, fresh or pickled, finely diced

2 TBs (or more to taste) fresh dill, chopped

1/4 cup chopped parsley

2-3 scallions, finely sliced

8-10 cherry tomatoes, halved (optional)

1 red or yellow bell pepper, finely diced (optional)

1-2 cups cooked beans (optional)

1/2 cup finely grated Parmesan (optional)
Dressing:
2 garlic cloves, grated

3 TBs fresh lime (or lemon) juice plus zest of 1 lime (or lemon)

1 1/2 tsps ground cumin

1 tsp Dijon mustard

1/2 tsp ground black pepper

1/2 tsp kosher salt

1 TBs umeboshi plum or other vinegar (optional but tasty)

3 TBs olive oil
Bring a medium saucepan of water to a boil, add a pinch of salt and barley, stir and simmer until just cooked (15-45 minutes depending on the barley you use). Drain well and put in a non-reactive mixing bowl. One cup dry should yield 3-4 cups cooked.
Add carrots, celery, jalapeño, tomatoes, parsley, scallions, peppers, beans and Parmesan if using.
In a small bowl or glass jar, combine grated garlic, lime juice, cumin, dill, mustard, salt & pepper, ume vinegar and oil. Whisk or shake to emulsify. Pour over barley mixture, toss well and adjust seasoning to taste.
Serve warm or at room temperature, especially pretty on a bed of arugula or lettuce. Set out a bottle of hot sauce for those who desire it.
Lasts 2-3 days covered in the fridge