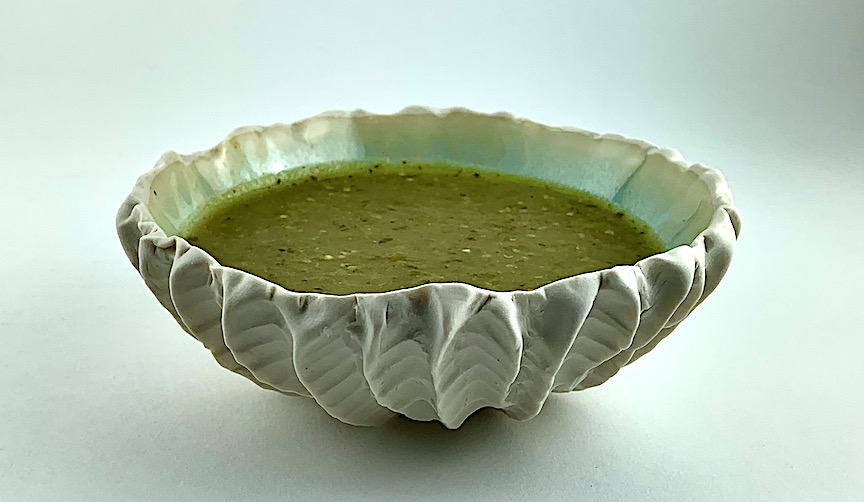 We've belonged to a CSA (Community Supported Agriculture)for over 20 years and every time our farm share included a basket of tomatillos, I had to search for a use for them. One of the best discoveries I made was a delicious mango/tomatillo salsa so good you could forgo the chips and just dive in with a spoon. This summer I found a very different tomatillo recipe, a salsa verde, from Roberto Santibañez, published in The Washington Post cookbook club (free to subscribers), which sounded so good I had to try it. As he promised, it is tangy and zippy and easy to make and can be used to make chilaquiles and enchiladas, for spicing up plain fish, chicken, tofu or shrimp, or just for dipping with chips or crudités. I altered the recipe to include lime and onion for more complexity but otherwise the recipe is his.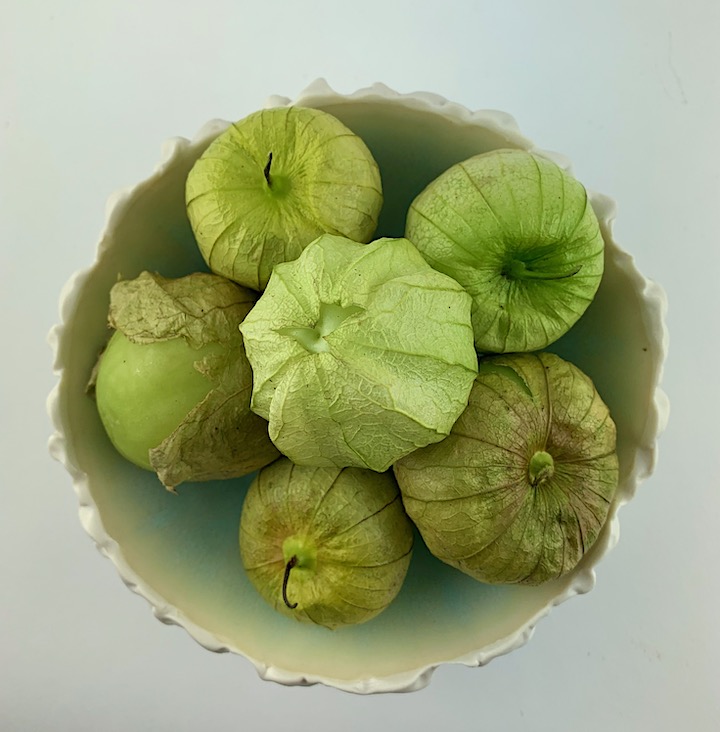 A salsa verde is any green sauce including those made with herbs (think pesto or chimichurri), avocado or tomatillos. In Italy, it might be predominantly capers and parsley while the Mexican version is mostly made with tomatillos, cilantro and chilis of different heats.
I didn't grow up eating tomatillos but I've really come to love cooking with them. I'm not sure they were even grown in New England in the 70's and 80's although you can probably find them at any farmers market these days. Since trying them starting in the 90's, I think I've liked every tomatillo recipe I have tried. You can use tomatillos raw in salads for a sharp acidic tang, but cooking mellows them a bit. Just make sure, after removing the husk, to wash off any tacky coating on the skin to avoid bitterness.
Most tomatillo salsa recipes call for roasting the vegetables but that feels like too much heat in the kitchen during the summer. This recipe specifies a brief simmer and sauté, which seems more doable on a warm summer day. You could even skip the sauté and mix in the oil directly. If you want it less spicy, remove the seeds from the jalapeño. And if you want it sweeter, add some mango or peach when blending. The amount of cilantro is flexible and you could also add parsley for more green. If you don't have a lime, just leave it out. No scallions in your fridge? Use a quarter of a red or white onion or don't use any. The great thing about salsa recipes is that they are endlessly adaptable. So try it this way first, decide how you like it and make it your own.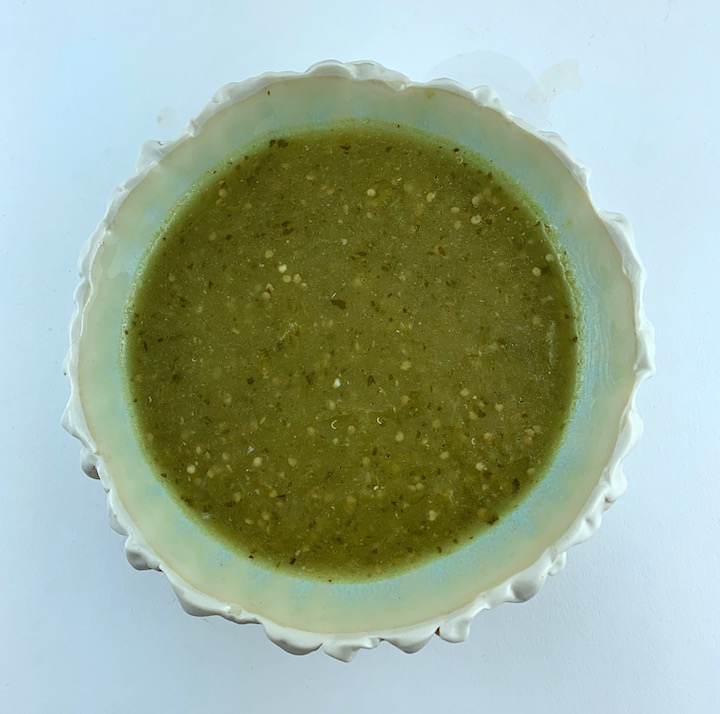 TOMATILLO SALSA (from Truly Mexican by Roberto Santibañez)
1 lb tomatillos (about 10-12, depending on size), husked and washed

1 jalapeño, stemmed but not seeded (if you want a mild salsa, remove the seeds)

1 large or 2 small garlic cloves, peeled

1 tsp kosher salt

1/2 tsp ground cumin

1/4-1/2 cup fresh cilantro, chopped

1 TB olive oil

1 TB fresh lime juice, plus zest if you like a stronger lime flavor

2 scallions, white and green parts, chopped
Put cleaned whole tomatillos and jalapeño in a saucepan and add water to cover. Bring to a boil and reduce to a simmer, simmering about 15 minutes or until tomatillos lose their bright green color. Turn off heat and drain.
Put cooked tomatillos and jalapeño in a blender or food processor with the garlic, salt and cumin. Blend or pulse until coarsely chopped. Add cilantro and scallions and blend until smooth but you can still see the seeds.
Heat the oil in the now dry sauce pan until shimmering. Pour in the salsa and a quarter cup of water, bring to a simmer and turn off. Stir in lime juice. Let cool and store in a glass jar in the refrigerator for up to 2 weeks or process in a water bath to make shelf stable.