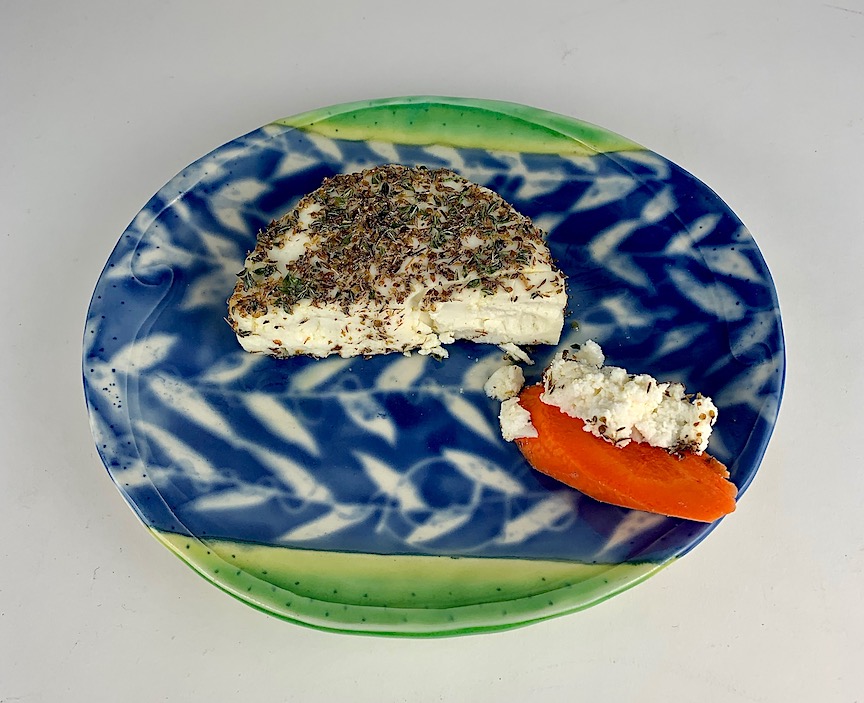 We are well into the short days and long nights of winter. No, don't pull the sheets over your head and hibernate. Now is the best time to invite people over – for drinks or soup or just to watch a movie – to share these wintry evenings. Plus, with the Super Bowl coming up, you'll need hors d'oeuvres or snacks on hand. Besides a freezer full of little triangles of spanakopita and samosas, cheeses make an easy and well-liked party platter. This week, I offer you a different spin on the traditional baked Brie or Camembert (an old standby for a winter cocktail party snack) – baked Manouri cheese with herbs.
Manouri is a soft cheese made from the drained whey left over when making feta in Greece, Macedonia and Thessaly. Primarily from sheep or goat milk, it has some cream added, which makes it softer, creamier and less salty than feta with just a mild tang. You can crumble it in salad or spread it on a cracker. But my favorite way to serve Manouri is topped with olive oil and herbs and baked, since it gets a cheesecake-like consistency when heated.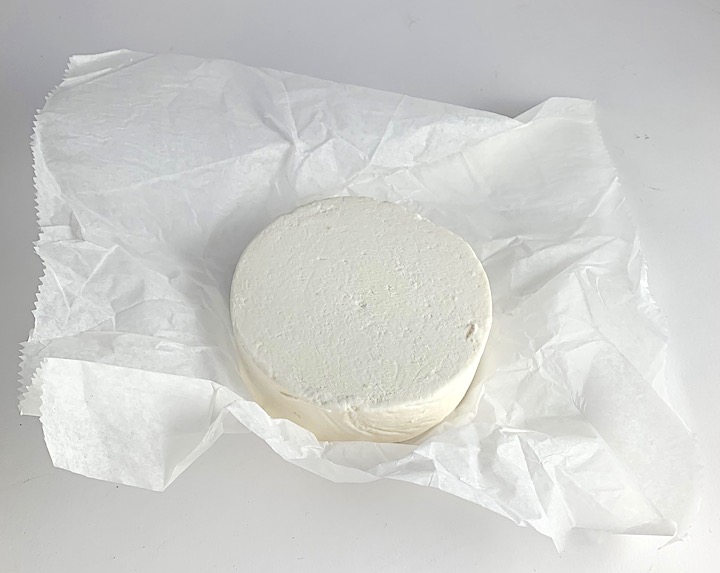 I was introduced to Manouri at Mani Marketplace, our local grocery run by two Greek brothers (I've written about them before). One of the owners recommended I try it and I loved it just simply spread on seeded crackers. When I went back to get more, the young man who stocks the cheese shelves told me how to bake it with oil and herbs. And the cashier suggested making it with honey and nuts, which could be delicious, too. I had never heard of Manouri cheese before, but apparently it is fairly popular. Find it in New York at Murray's Cheese, Zabar's and the Bedford Cheese Shop, as well as at Mani. You can even buy it online.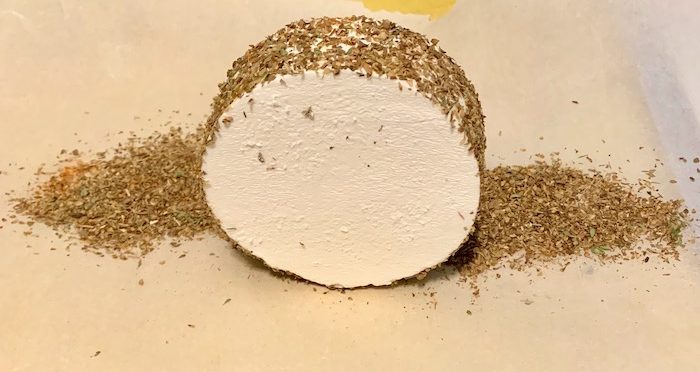 This is one of the simplest hors d'oeuvres I know and a little different (and less rich) from the more commonly baked Brie. I used a blend of oregano, paprika and thyme but za'atar, Herbes de Provence, chopped rosemary, dill or even a chutney could be delicious. You could bake olives and roasted peppers alongside the cheese and serve them together. Remove the Manouri from your baking sheet with a spatula and plate it on a handmade ceramic dish. Then you have not only a tasty but beautiful snack to serve your guests.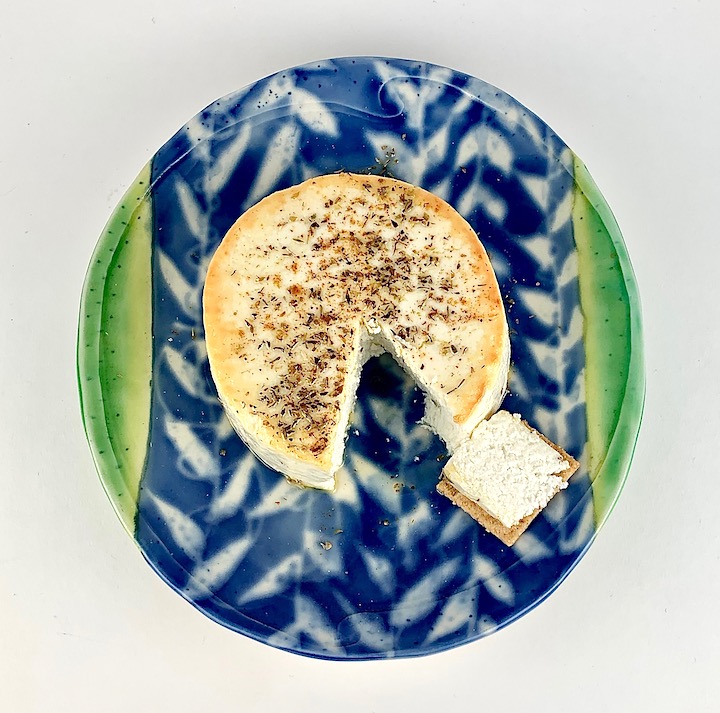 BAKED MANOURI CHEESE
This is almost too simple to be a recipe!
Slice of Manouri cheese (mine was a little more than an inch tall)

Flavorful olive oil

Dried herbs (I used oregano and thyme)
Roll your slice of Manouri in dry herbs so the whole edge is coated.
Place the herbed slice on a parchment lined baking sheet.
Drizzle with olive oil (about 1 TB).
Sprinkle the top with more herbs.
Bake at 350F degrees for 6-8 minutes.
Remove to serving plate with a flat spatula.
Serve with crackers, crudités or apple/pear slices.