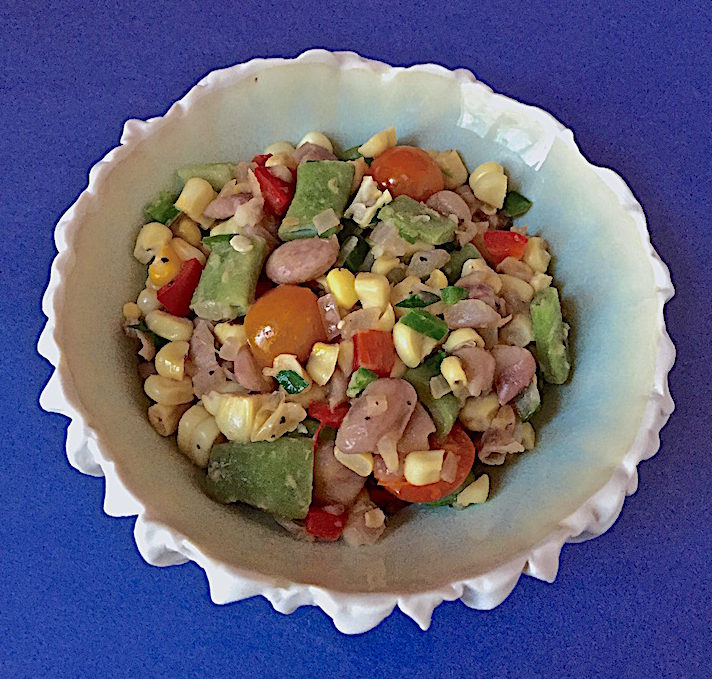 Just say the word out loud 3 times – it will make you smile, if not laugh, thinking of Daffy Duck or Sylvester the Cat saying "suffering succotash". The actual dish is a delicious way to use the end of summer vegetables while we can still get fresh and local – corn, yellow wax or Romano beans (the flat Italian green beans), cranberry or other shelling beans, limas, zucchini and red peppers. My favorite version is very simple and one I make whenever I have leftover corn on the cob. Truth be told, I often buy and cook more corn than we need just so I can make this dish.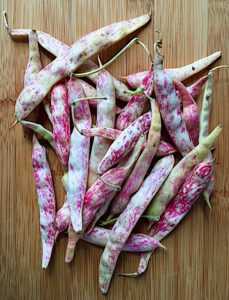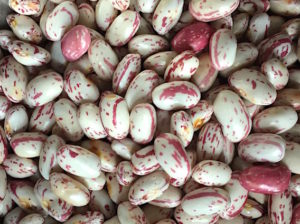 Traditional succotash includes lima beans but since they aren't often available fresh, I use cranberry beans. If you don't want to use a starchy bean, just leave it out. I've tried making it both ways and they are equally tasty, the one with shell beans being more substantial. You can use zucchini, okra, green peppers, cooked carrots or almost any other vegetable that will hold its shape, including chopped cooked greens. The succotash definitely benefits from tossing in some chopped fresh green herbs. If you no longer have fresh corn available, you can use frozen. Cooked succotash keeps for several days in the refrigerator and holds up well in a lunchbox.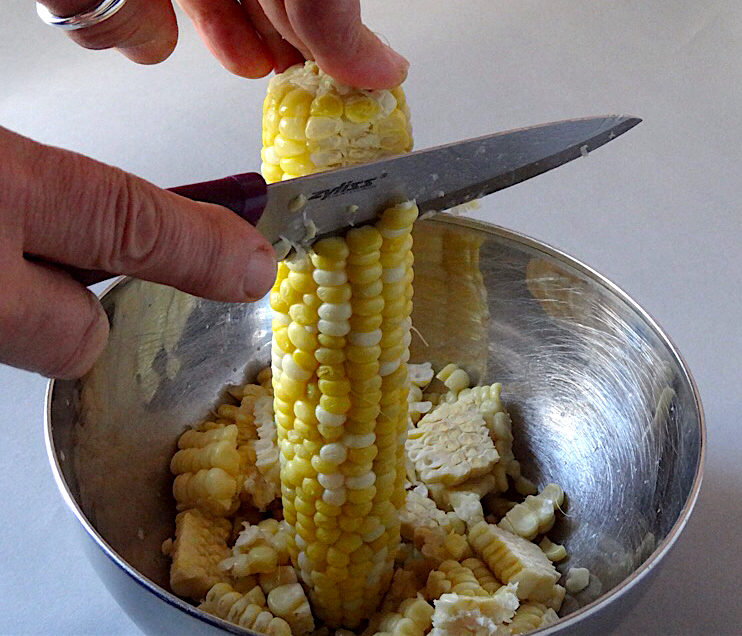 The recipe is so simple, in fact, that it really just involves steaming or cutting the vegetables and tossing them with some butter, in which the onion is sautéed, and salt and pepper. But for your ease of mind and precision, here are some measurements for guidance. (A tip when cutting corn off the cob – hold the corn upright by the thicker end with the point in the bottom of a medium sized bowl. Use a sharp knife to slice down the cob to release the kernels and catch any milk that is released. Keep turning and cutting while you carefully slice down into the bowl). The amount of jalapeño or Serrano pepper you add will determine the heat level. The most important thing is not to over cook the vegetables. And chuckle away!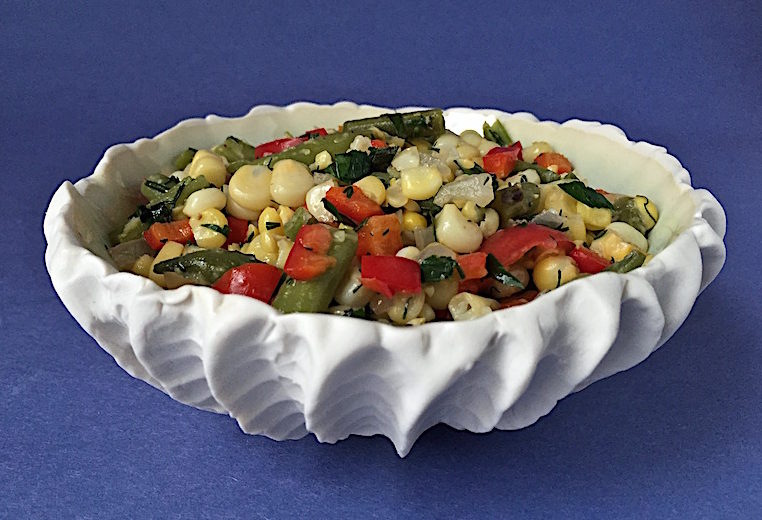 END OF SUMMER SUCCOTASH
1 large onion, diced

1 tsp neutral oil, like avocado or grape seed

2 TBs butter

2-3 cups fresh corn kernels, cooked and cut off the cob

1-2 cups Romano, yellow or green beans, cooked and cut into bite-sized pieces

1-2 cups cranberry or lima beans, shelled and cooked

1 large red pepper, seeded and diced

1 jalapeño or serrano pepper, seeded and minced

1/2 cup chopped fresh parsley, basil, dill or a combination

Salt and pepper to taste
Melt the butter in the oil in a large sauté pan over medium heat.
Add the onion and cook until softened and translucent, about 5-7 minutes
Add the rest of the ingredients and stir just until warmed through.
Add salt and pepper to taste. (I used 2 big pinches of salt and 1 of black pepper)
Serves 4 as a main course or 6-8 as a side dish.
Optional add-ins to boost flavor:
1 cup cherry tomatoes, halved

1 cup zucchini, cooked and diced

1 cup okra, cooked and sliced

1/2 cup kale, arugula or collards, cooked and chopped

1 cup carrots, cooked and diced

1 green pepper, seeded and diced