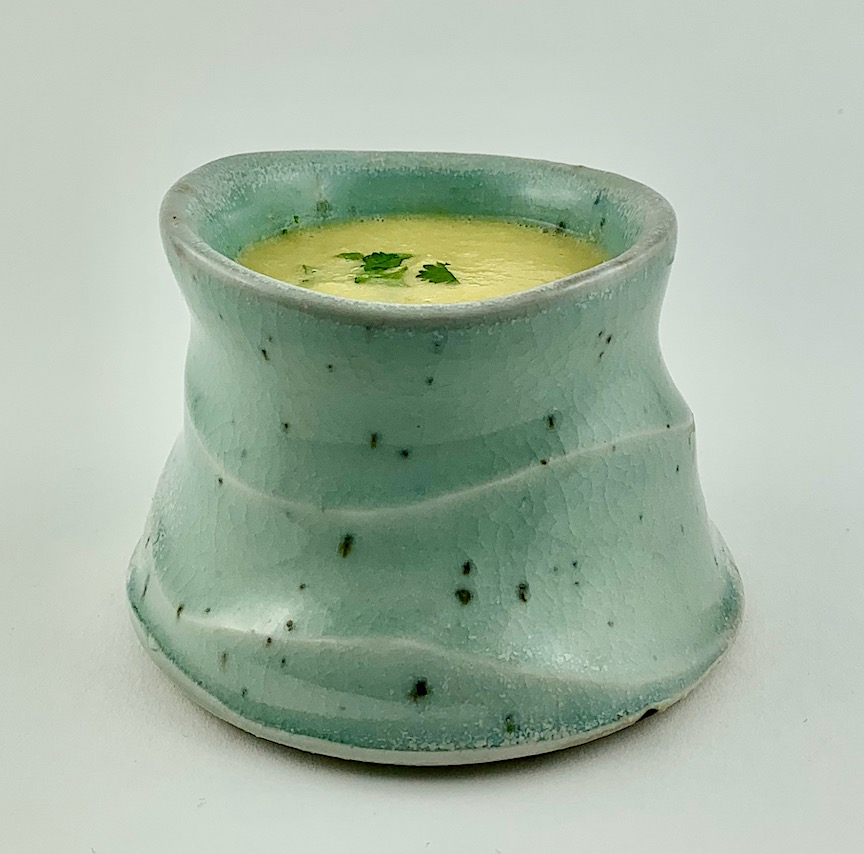 There are many great things about September, even this year, including ripe tomatoes, cooler temperatures and corn on the cob. It is still warm enough to buy and eat fresh corn but it can also be cool enough to eat corn soup. Fresh (and frozen) corn makes a wide range of delicious chowders and soups—there are seemingly endless versions out there. My current favorite is a southwestern style, dairy free purée made with tomatillos (yes, another use for them), onions, garlic, jalapeños, cilantro and corn based on the recipe in Fields of Greens cookbook by Annie Somerville. It is sweet and spicy, light but filling, so flavorful and easy to make. The secret to the deep corn flavor here, I think, is using corn stock rather than the more traditional chicken or vegetable stock.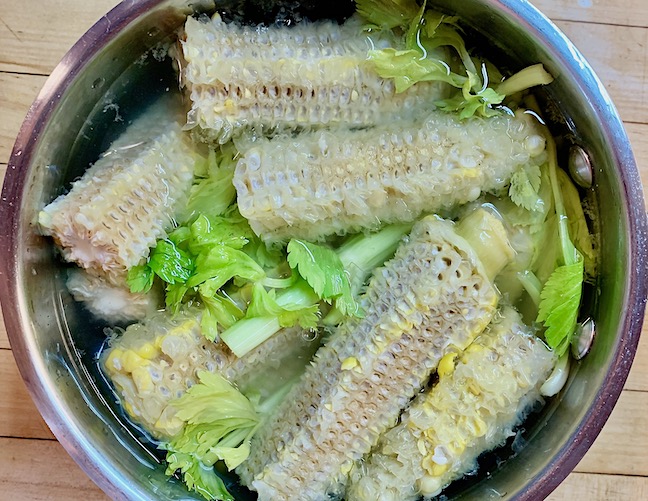 How great is it to have a productive, tasty use for corncobs? After you cut off the kernels (or have eaten the corn on the cob), what do you usually do with the cobs? Throw them in the garbage or compost, right? Not anymore! Put those cobs in a stockpot with a few other vegetables and some water and you'll have the base for any number of late summer or fall soups.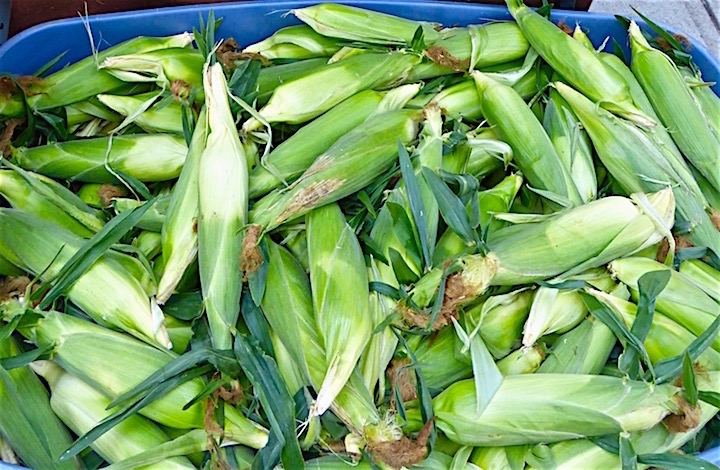 The ingredient amounts are variable and easy to substitute (poblano could work for jalapeño, green or orange tomatoes or scallions for onion, for example, and if you didn't have any hot peppers, you could use tinned green chilies) and it is not critical to be precise. You can use uncooked or cooked cobs by themselves or add some aromatics to make your stock a little more complex. Put some of this stock in the freezer and you'll have the taste of summer when you make corn soup in the middle of winter.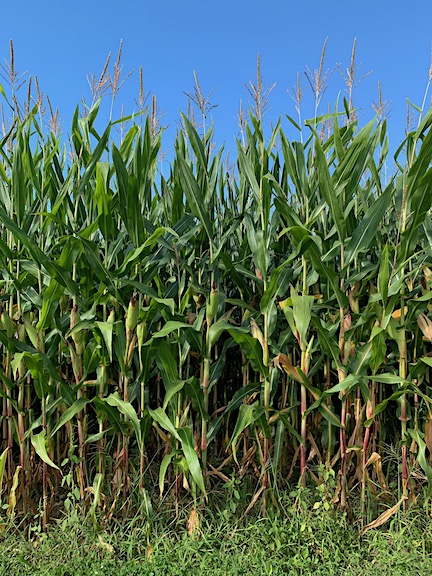 CORN STOCK
Put in a large stockpot:
6-8 corncobs, kernels removed

9-10 cups of water
Add any or all or none and simmer 30-40 minutes:
4-5 cloves garlic, smashed

1 onion, sliced

A handful of fresh parsley

1-2 stalks of celery (or the leafy tops and base)

A few sprigs fresh thyme

5-10 black peppercorns

1 bay leaf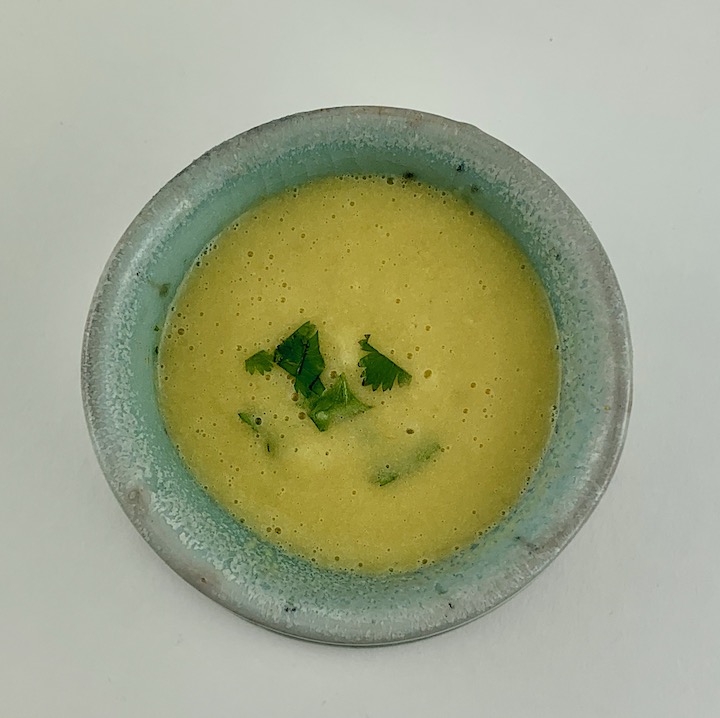 SOUTHWESTERN CORN SOUP (based on Field of Greens)
2 TBS Olive, Avocado or Grapeseed Oil

1 Medium to Large Onion, Peeled and Chopped

Kernels from 6 raw or cooked ears of corn (about 5 cups)

2-3 cloves of garlic, peeled and smashed

4-5 cups corn stock (or more if you like your soup thinner)

6-7 Tomatillos, husked, washed and chopped

1-2 Jalapeno peppers, seeded and chopped

Handful of cilantro, stems and fronds chopped separately

Pinch of cayenne

1 tsp salt
Sauté onions in oil until translucent. Don't brown.
Add corn kernels, garlic and 1/2 tsp salt and sauté 1-2 minutes over medium heat.
Add stock and simmer until corn is soft, about 10-12 minutes.
Add tomatillos and jalapeño(s) and simmer for 5 minutes.
Add cilantro stems, cayenne and remaining 1/2 tsp salt and simmer another 2-3 minutes.
Pour soup into blender (be careful of steam) and blend until smooth. Depending on the size of your blender, you may have to do this in two batches. If you want some chunkiness to your soup, retain a cup or two of the cooked vegetables before you blend it and add them in afterwards.
Serve, garnished with cilantro fronds (or basil). If you want richer, add a dollop of creme fraiche or sour cream.  Keeps refrigerated for 2-3 days. Reheat gently to avoid scorching. Serves 6.