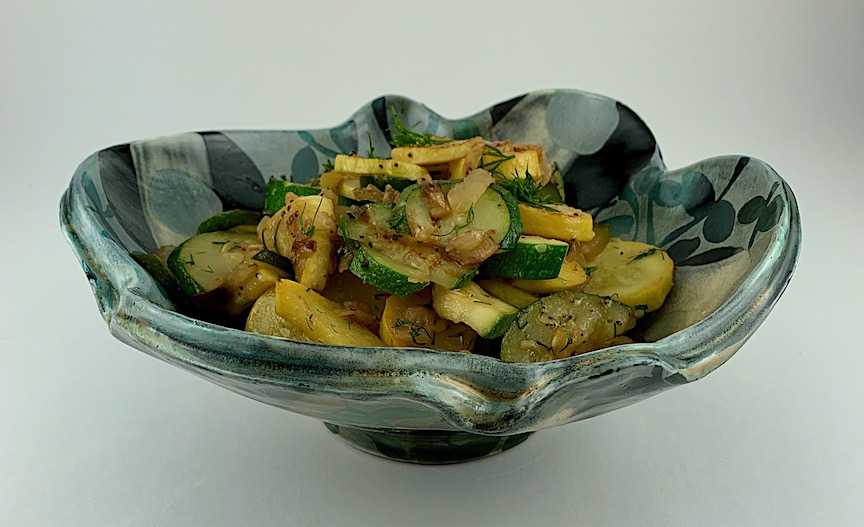 From the beginning of summer all the way into September, there is just too much zucchini and summer squash around. We get it in our CSA farm share but I see it overflowing bins at the farmer's markets and in people's gardens. What to do with all that squash? You can't just eat it out of hand like a cucumber or green bean. You can bake it into loaves of bread or into pancakes or muffins but those projects almost always include sugar. I tried making them into noodles but not only did I cut myself badly in the process but I also didn't enjoy the outcome. Occasionally I grate some into an omelet or salad but my husband, Brooks, hates it so much that I try not to sneak it on him. My standby for tackling a pile of green and yellow squash is to caramelize it with onions and top it off with a big handful of dill, fresh, if possible. We had it last night for dinner and Brooks actually said he enjoyed it!!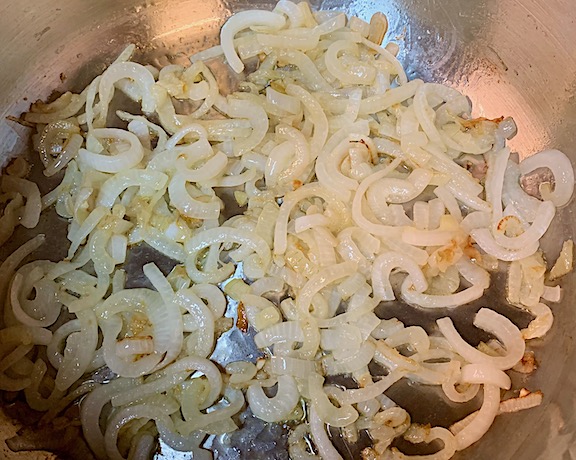 What savory dish doesn't taste good with caramelized onions? In this recipe, the taste is masked by the sweetness of the onions, the green of the dill and the brown sugar flavor of the caramelization. The more you caramelize both the onions and the squash, the better the whole dish will taste. My mother used to make this recipe, or something like it, with the mountains of zucchini either from her garden or from the bags of it friends and neighbors would give her. It was so much better than the soggy steamed or pulpy roasted with tomatoes recipes she made in an effort to use it all up. Don't skimp on the size of your pan; the onions and squash will caramelize best in a large skillet. Try to use smaller, younger squashes rather than the larger, seedier, spongier beasts. Pattypan varieties work as well as the straight neck squash, but make sure to cut them in even, not too thick slices. Fresh dill works best but dry is acceptable. Just add the herb at the end of cooking so it stays fresh. And although you want caramelization, please, please don't overcook the squash to a slushy mess. You can easily double the recipe and use up all your squash. Plus it tastes good leftover which means less cooking in hot weather, always a good thing.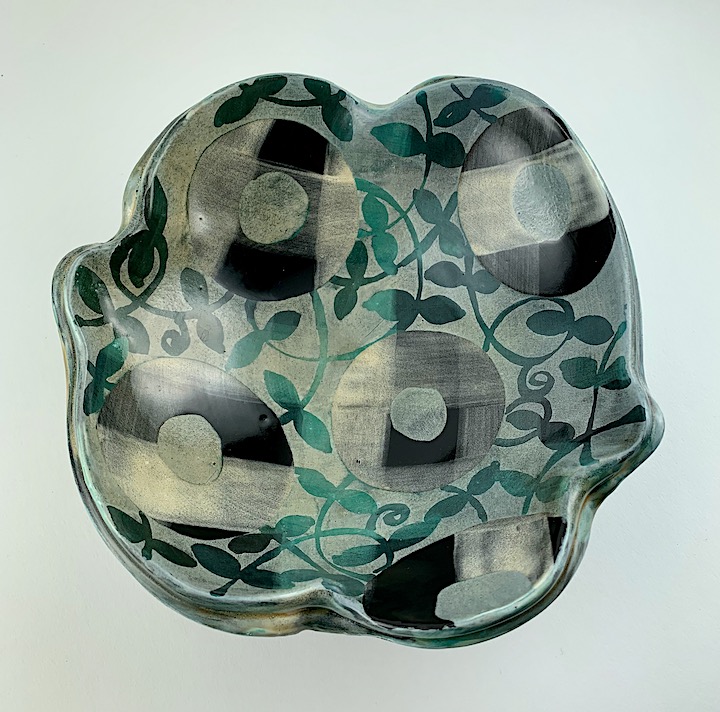 DILLED SQUASH WITH ONIONS
2 TBs olive, avocado or grape seed oil

1 large onion, (2 would be okay), peeled, halved and sliced

3-4 small to medium zucchini or summer squash, cut in half moon slices

Big handful of chopped fresh dill (about 1/2 – 3/4 cup)

Salt and pepper to taste
Heat the oil in a large skillet. When hot, add the onions and sauté, stirring occasionally, until they start to brown. Be patient. Add squash slices and stir to combine. Cook, only stirring very occasionally, until squash starts to caramelize. (The more caramelization, the more flavor but don't let the squash get stewed). Remove from heat; stir in dill and sprinkle generously with salt and pepper.
For a more substantial meal, add freshly grated Parmesan. Refrigerate leftovers and serve the next day at room temperature or briefly warmed. Serves 4-6 as a side dish.