With Thanksgiving just over a week away, we really need to finalize what to serve or bring for the feast. One of my favorites, and one of the easiest holiday side dishes (aside from a simple baked sweet potato or steamed green beans) is Brussels sprouts with roasted chestnuts. It is so easy it really isn't even a recipe. You won't need instructions after you've made it one time. The most labor-intensive part of the process is roasting the chestnuts and that job can be done a day or two ahead.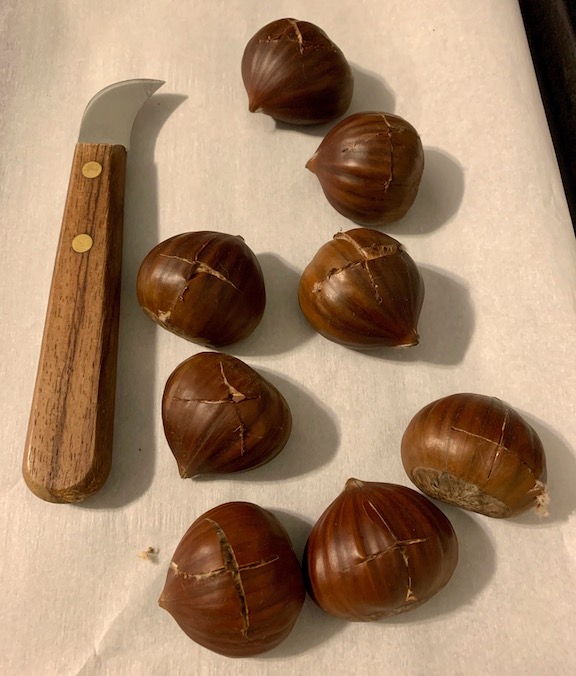 Fresh chestnuts are widely available from now through the end of the year. To prepare your washed chestnuts for roasting, score an x through the dark outer shell on the rounded side of the nut. There are special knives just for this task but a short, sharp paring knife works fine. Place the scored nuts on a rimmed baking sheet and bake for 15 minutes in a 350, until your cut x has curled back to expose some inner flesh. After removing from the oven (I actually did ours in the toaster oven since we still have no gas), wrap the hot chestnuts in a dish towel and crunch them with your hands a bit to loosen the skins. Let them steam like that for about 5 minutes and then peel – a somewhat time-consuming job but one that can be done while watching TV or talking on the phone. You can use the chestnuts immediately or store them in a glass jar in the fridge a few days until ready to use. And if all of this seems like too much work, jarred and bagged roasted and peeled chestnuts are easily purchased.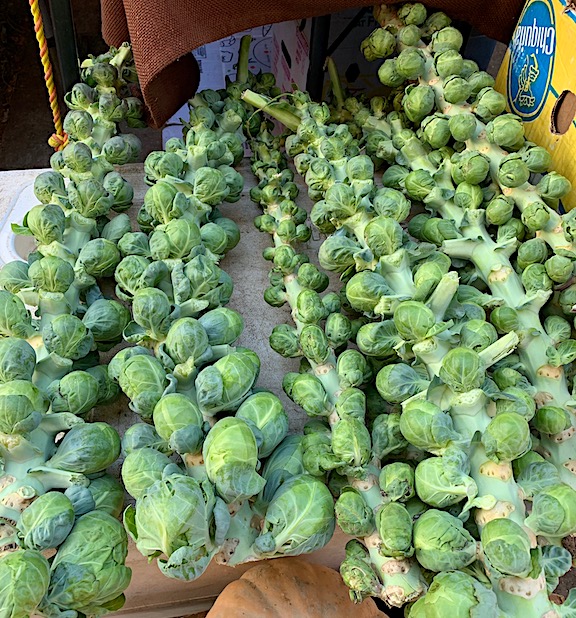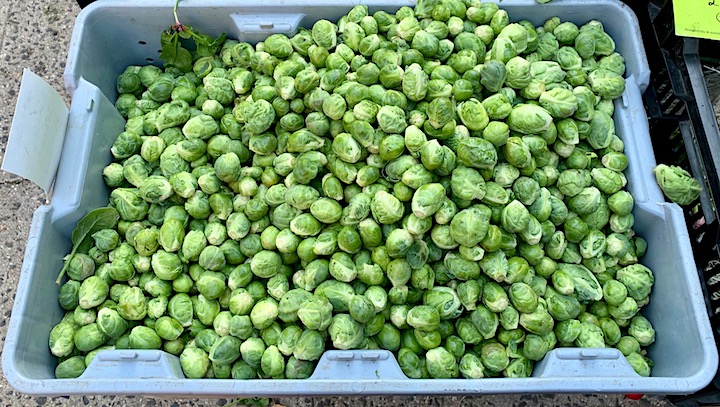 Similarly, it isn't hard to clean, steam or roast Brussels sprouts (but frozen are delicious, too). Just trim off the tough bottoms, halve if large, place in a steamer insert in a pot with a lid and add an inch or so of water. Steam 5-6 minutes or until just pierce-able with a fork or knife. Please, please, please be careful not to overcook! Drain and add a generous knob of butter (or earth balance or whatever you use instead of butter), the semi- chopped chestnuts and a generous sprinkle of plain salt, an herb salt like Herbamare or a flavored salt – perhaps truffle?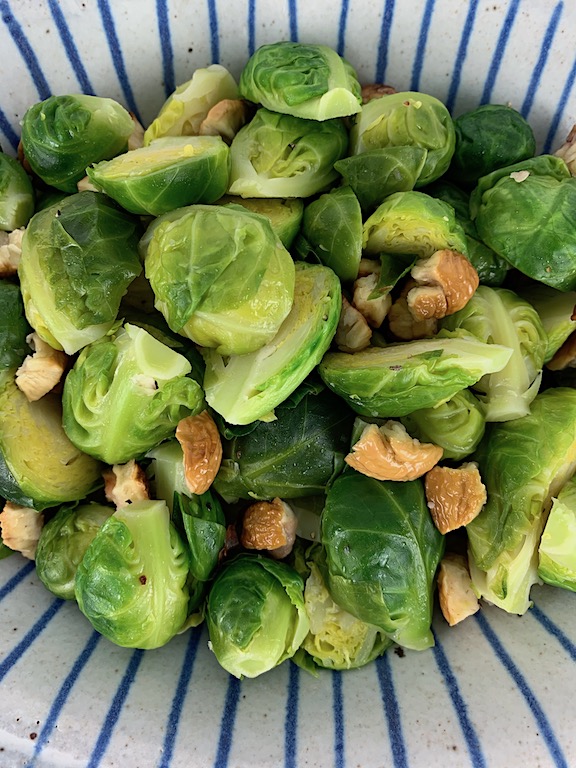 I hated Brussels sprouts as a kid, perhaps because they were always served over cooked or because the smell of overcooked cruciferous vegetables is so disgusting. But when I started cooking them for myself and adding butter and salt, I learned to enjoy eating them. The sweet, creamy flavor of the chestnuts is a perfect balance to the vegetal Brussels sprout flavor. This bright green dish, along with a salad and cranberries, will enliven a Thanksgiving table full of predominantly brown, white or pumpkin colored foods. And if it is too much effort to make or get chestnuts, (although I think you'll find it is worth the time), just cheat and toss in a handful of toasted pumpkin seeds and currants and you'll have made an otherwise plain vegetable seem quite festive.