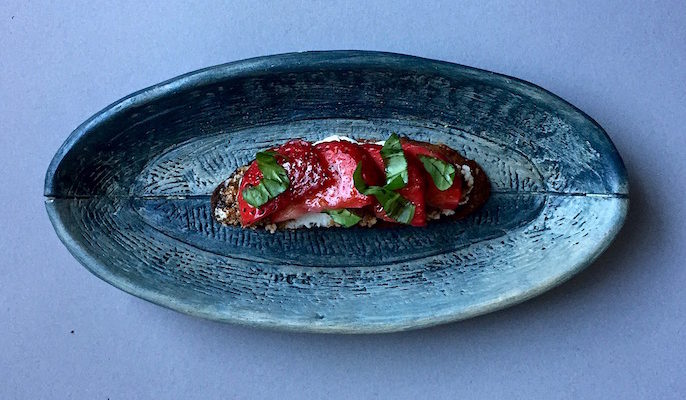 I was never in love with bruschetta (I'm always trying to avoid more bread) but Strawberry Bruschetta changed my mind. For some of you it may not be a new experience but I tasted it for the first time recently at a wine bar happy hour with a friend who was visiting from DC. We were both amazed at how something so simple could be so delicious. Since June is peak season for strawberries in the Northeast, I thought I would start off the month with an easy recipe that is suitable for an hors d'oeuvre, starter or light meal.
The strawberries can be prepared different ways but the two I found best were cutting and tossing with balsamic vinegar and olive oil or slicing and drizzling with an aged balsamic (or balsamic that has been reduced by simmering if you don't want to spring for the expensive stuff). The spread layer can vary, the most common being goat cheese or mascarpone. I like it with plain ricotta but even cream cheese or butter work. For a lighter or vegan version, you could leave off the cheese completely, perhaps adding a smear of jam under the berries. And to make without bread altogether, try a slice of cucumber.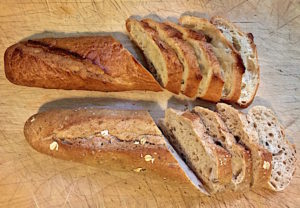 The most popular herb in recipes for strawberry bruschetta is fresh basil (going with the balsamic, cheese, etc.) but I like it with fresh mint, too, and even parsley could be good in a pinch. The toast, itself, can be almost any kind of bread but a dense sourdough or whole grain baguette is an easy size when sliced. For hors d'oeuvres, little specialty crisps (like the Trader Joe's Fig & Olive Crisps) work perfectly with a single small berry or slice for a one bite serving. For a meal, a larger piece of bread is useful, served like an open faced sandwich. Strawberries are a delicious alternative until tomato season arrives and it is fun to use what is in season for some surprisingly tasty bites!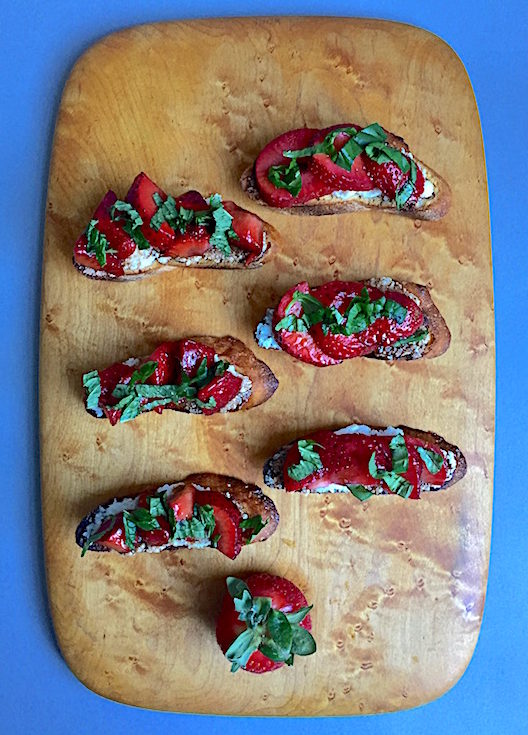 STRAWBERRY BRUSCHETTA
Version 1:
Wash, hull and cut in bite-sized pieces fresh strawberries.

Whisk equal parts balsamic vinegar with extra virgin olive oil.

Add a pinch of salt and black pepper.

Pour over cut berries, toss and let marinate while you prepare toasts.

Cut thin slices from a baguette and toast until golden brown and cool.

For a richer bruschetta, drizzle or brush toasts with additional olive oil.

Spread each toast with ricotta, mascarpone, cream cheese, butter or fresh goat cheese).

Top the cheese with a spoonful of the marinated strawberries on each toast and sprinkle with torn fresh basil or mint leaves.
Version 2:
Cut thin slices from a baguette and toast until golden brown. Drizzle lightly or brush with a good olive oil and let cool. For an hors d'oeuvre, use small crisps on their own.

Spread each toast (or crisp) with ricotta, mascarpone. butter, cream cheese or fresh goat cheese and sprinkle with a bit of salt (salt optional).

Top with thinly sliced strawberries (for crisps just use one slice).

Drizzle with aged or reduced balsamic vinegar (or a vinaigrette made from equal parts vinegar and oil) and sprinkle on chopped fresh basil or mint leaves.