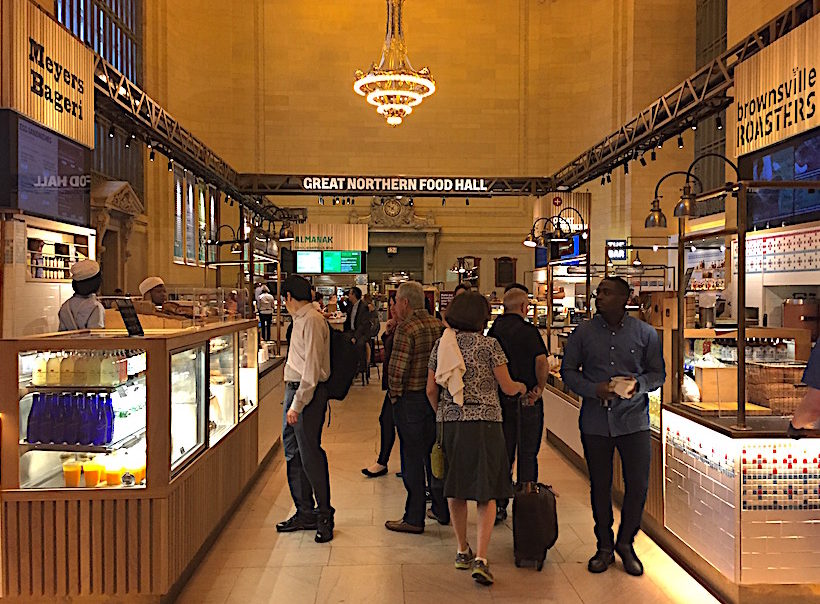 It used to be that if you were catching a train at Grand Central Station and needed something to eat, you could grab a bagel at Zaro's, some nuts at Hudson News or hunker down for a meal at the Oyster Bar. In recent years, the lower level food court has been upgraded and improved but I wouldn't eat there by choice. The high- end marketplace on the Lexington Avenue side of the station, anchored by Eli Zabar's and including a nut shop, fish market, coffee shop, flowers, cheese and charcuterie is well stocked but it is quite pricey. I would buy bread or a gift there but nothing else really beckons to me.
I'm happy to report there are new grab and go and dine-in options in Grand Central. Claus Meyer, the Danish restaurateur who opened a chain of bakeries and Noma (voted best restaurant for several years running) in Copenhagen, recently turned his culinary talents to bringing Scandinavian food to New York. Starting with a pop-up patisserie, now brick and mortar, and a coffee roaster in Brooklyn, he has now tackled Manhattan. Lucky for us, he opened the Great Nordic Food Hall this summer in half of Vanderbilt Hall, the old Grand Central waiting room on 42nd Street, a bakery and deli near the IRT subway, a "hot dog" (really sausage) kiosk, and Agern, a high end restaurant focusing on local and seasonal food and drink, which I haven't tried yet but hope to find an occasion to do so.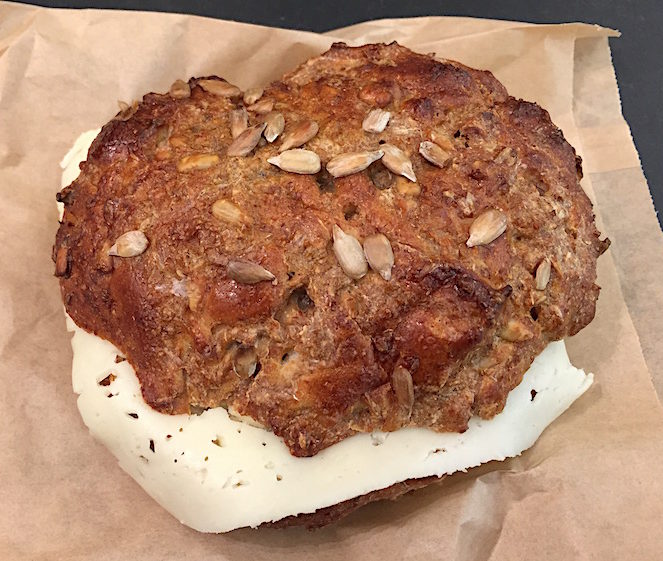 Since finding the Meyer Bageri (the bakery) at the Great Northern Deli, I have detoured whenever in the neighborhood or taking the train or the shuttle (just down the hall) to buy a sourdough or whole grain rye bread and, full disclosure, the raspberry bars – they are heavenly! Full of freshly made raspberry filling and sweet, buttery pastry, they are a reason to take the train. After sampling the delectable almond poppyseed twist and flaky, creamy maple pecan Danish, I didn't dare try their gluten-free valrhona chocolate brownies but they look fantastic. The deli also sells sandwiches, drinks, bags of granola, cookbooks and gift items, in case you forgot a little something, either as a hostess gift or to eat while waiting for or riding a train.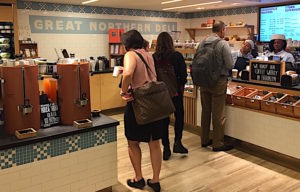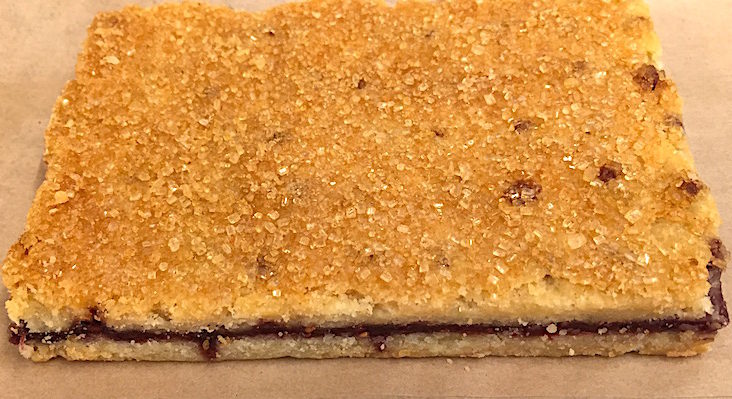 Next door to the deli is the diminutive but well designed and very tasty Danish Dogs. These are not traditional hot dogs but for $8 you have a choice of 4 kinds of sausage on an in-house made hot dog bun with abundant and interesting toppings including lingonberries, beet remoulade, cucumber salad, sorrel leaves and fried onions. Just remembering the delicious chicken sausage assemblage I ate there makes me want to return in a hurry! Until 10:30 every morning (when it is really too early to be seen eating a hot dog), this counter serves made to order $7 omelet sandwiches.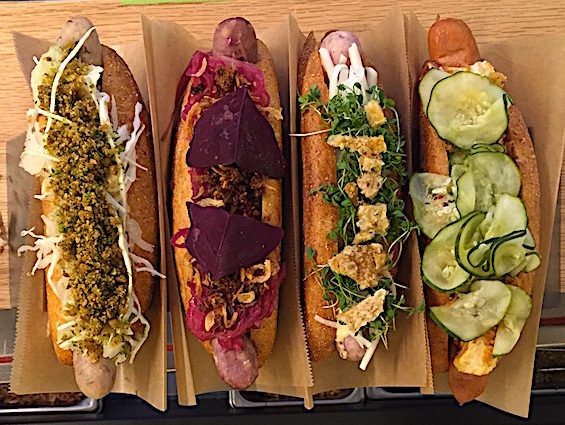 The food hall is appealingly spare, in neutral tones with a calm vibe (remarkable considering its setting) and includes a bar, coffee counter and kiosks for sandwiches (both open face Danish style smorrebrod and regular) and baked goods. There are plenty of tables for eating what you purchase as well as a sit-down, full service cafe for salads and hot food. Over the summer, my husband and I tried several sandwiches, drinks and desserts – all were excellent, including the coffee (from Meyer's Brownsville Roasters.) Our favorite was the celeriac sandwich (thinly sliced celery root, green apple and walnut ($10) on a flavorful in-house made whole grain "hoagie" and the above mentioned hindbaersnitte, the raspberry bar so good my mouth waters just thinking about it.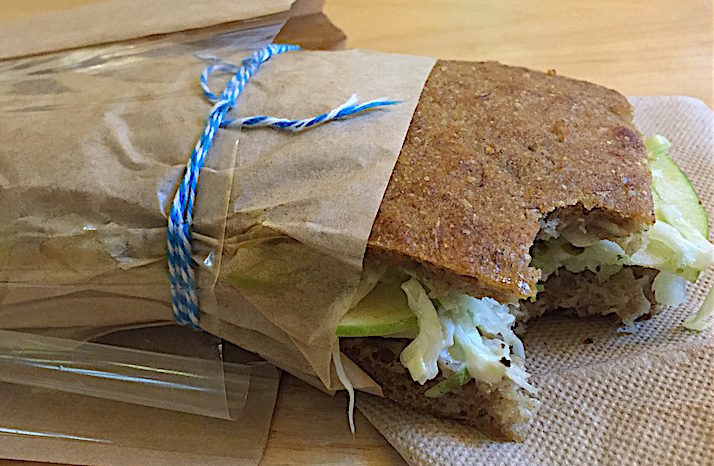 The philosophy behind the food hall is as attractive as the food displays. The lowest paid employees start at the living wage of $15/hour with benefits – what other casual dining arena in New York can say that? Food is actually locally sourced and well raised, there is a feeling of quality over quantity, and although it is busy, the food hall is a pleasant place to sit and have a coffee, lunch or drink at the bar. It is not that the food is less expensive than what I could find in the downstairs food court. It's just that it is so much more appealing on so many levels. Instead of just grabbing the least "bad" thing I could find while running for a train, the Nordic Food Hall is a place at which I will plan to eat often and intentionally.