I don't love raw radishes but I do love their color. So I eat them when they arrive in the spring, not only because I think variety is healthy but also since I've read repeatedly that radishes are good for digestion. Plus, they are low in calories and high in fiber. My problem is that I don't love their sharp taste. On a positive note, I have found that I dislike them less when I salt them and as I get older (maybe my de-sensitized tastebuds?). Eating raw, salted thinly-sliced radishes on buttered bread, as the French do, is delicious, which may have more to do with the wonderful taste of butter and bread. So why bother, you wonder?
Radishes are a fine source of dietary minerals. And they can be quite beautiful, especially the pink and purple ones. The watermelon radish, my favorite, is available late summer and fall and stores well into the winter and even spring in the fridge. This is a mildly spicy variety, which is good in small pieces in a salad, adding crunch and color. And the color – wow! A thin white ring surrounds the gorgeous magenta interior and just under the skin lies a bright lime green layer. If you peel it very lightly, yes, it resembles a slice of watermelon. A few slices enliven a crudite platter or a salad, but my favorite way to eat it is lightly sautéed. You can roast radishes alongside your other winter veggies like parsnip, rutabaga, carrot and beet but a simple sauté leaves a slight crunch while losing the sharp bite. The color is enough to brighten a dark winter table!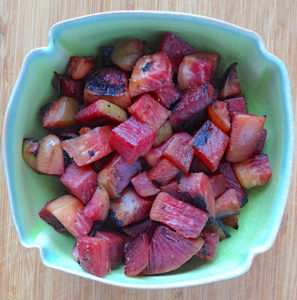 Sautéed Watermelon Radish
Wash and gently peel two radishes so as not to lose all of the green flesh that lies just under the surface. Cut in a large dice or into small triangles like watermelon slices. Heat a teaspoon or two of olive oil in a wide frying pan and when shimmering, sauté 2 cloves of minced garlic. Add a sprinkle of salt, add the radishes and a big pinch of thyme and black pepper. Cook, stirring often until starting to brown and the radish pierces easily with a fork but is not soft. Add a little water if they start to stick to the pan. Taste to see if you want more seasoning and serve warm.